NoDa is a vibrant, quirky neighborhood in Charlotte. It has evolved dramatically over the years, once a textile community that reinvented itself into a center for the arts and live music. This new wave has created a revitalization of some of the older bungalows there. For this project, the homeowners were seeking a NoDa exterior remodeling company to transform their property. Belk Builders was excited to get the call and win the business. This is a fascinating project that we're thrilled to share with you.
New Hardie® Plank Siding Reimagines the House
The first job of a NoDa Hardie® Plank siding installer is to remove the existing material from the home. The old vinyl siding was impacting curb appeal, so it was a must-have in this renovation. To give the home a sophisticated and modern look that was also staying true to the neighborhood's vibe, the homeowners chose Hardie® Plank lap and vertical siding in a medium gray. The lap siding lays vertical "lapping" one another. There is an accent area that features the board and batten look with long vertical pieces with raised "battens" and is inspired by farmhouse architecture.
As a NoDa siding replacement contractor, we present our customers with many options, but we do highly recommend Hardie® Plank siding because of its durability and beauty. It's made from cement fiber, which is much more robust than other materials. It's also impervious to moisture or insects, and it will never warp, buckle, or split. The company uses a special finishing process to bake in the color, so it will never fade or need maintenance.
Energy-Efficient Windows Offer Style and Function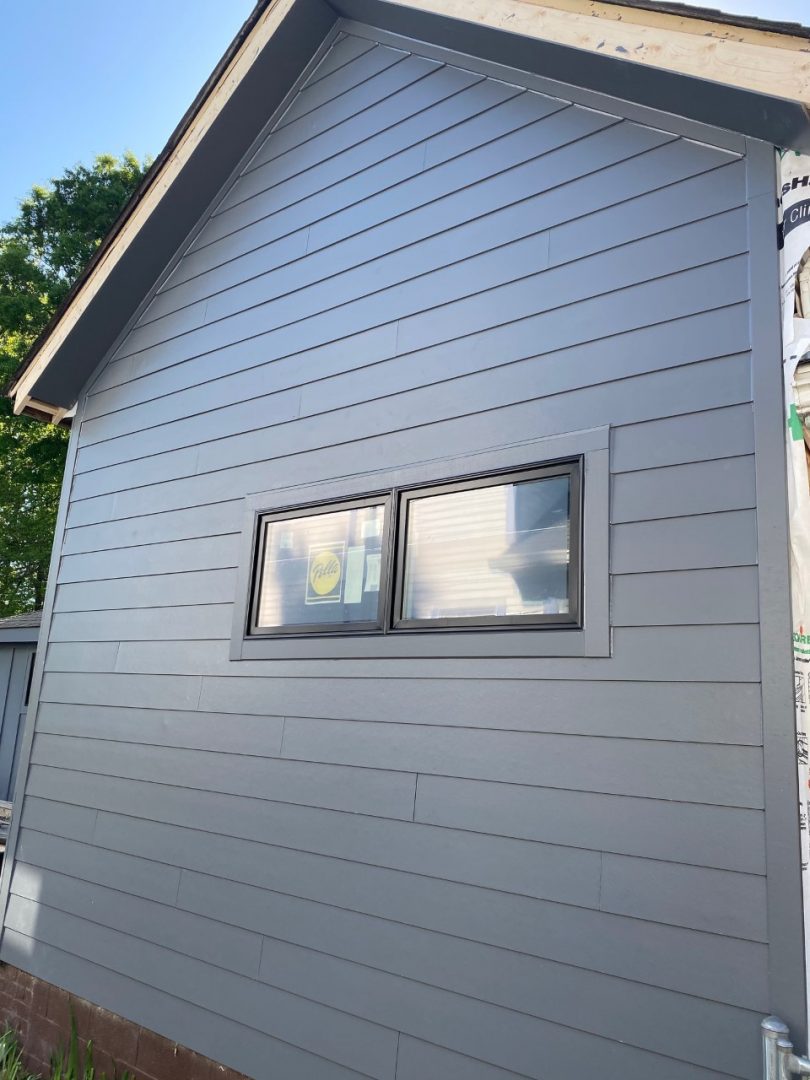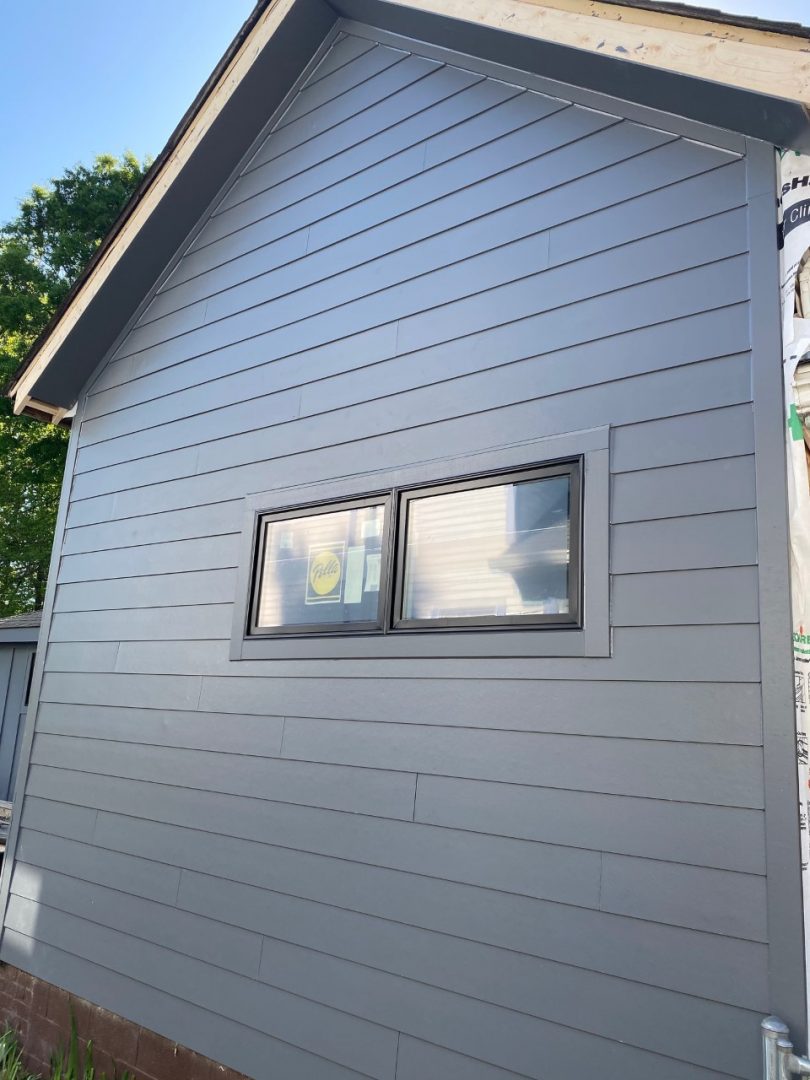 To continue the renovation of this NoDa bungalow, we also installed new energy-efficient windows and a sliding glass door. On the exterior, the windows and door have a black frame, which adds depth to the home's exterior and flows well with the gray siding. These new windows look great and are built to reduce energy bills by not letting warm or hot air escape from inside and not letting it in.
The windows on the side of the home are awning windows, which hinged at the top and open outward from the bottom. These windows are great for ventilation and enjoying the breeze on a warm day.
New Front Porch Adds Final Piece to Home's New Look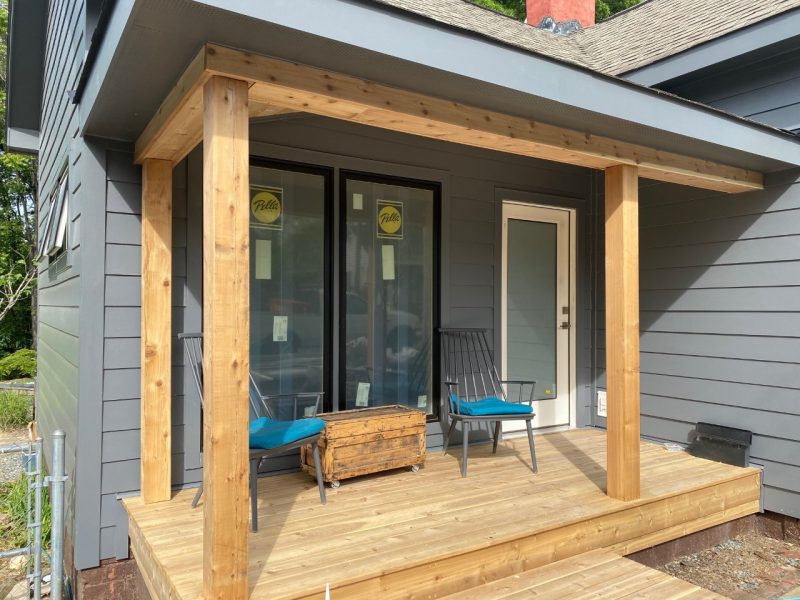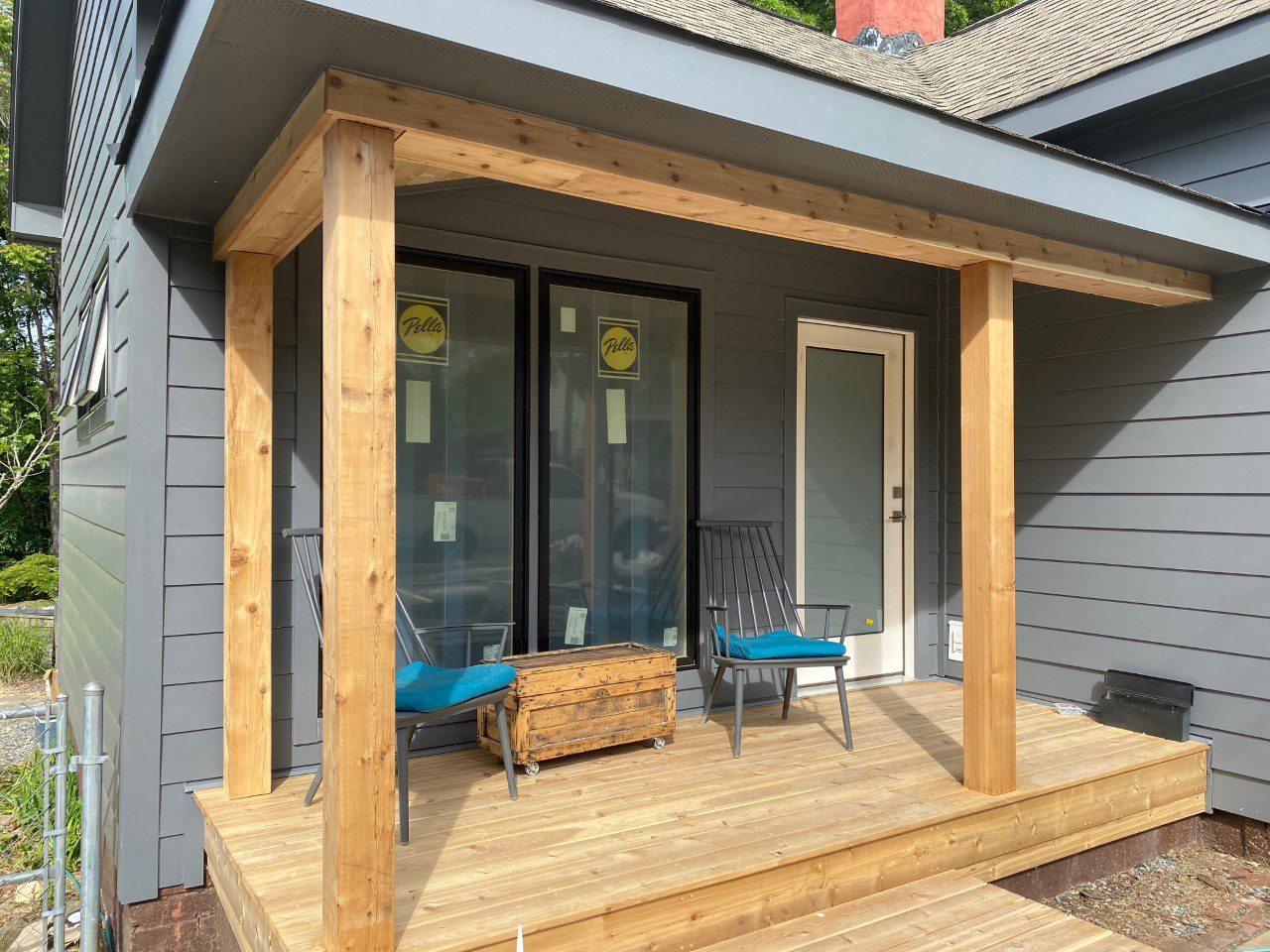 To complete the transformation of the home, we built a new wood front porch with columns. The porch delivers immense curb appeal but has also created a new outdoor living space for the homeowners to enjoy. Choosing a lighter wood color for the porch also gives the area more dimension and goes well with the other colors of the home's exterior. Recess lighting was also installed on the porch's roof.
Update and Upgrade Your Home's Exterior
If your home's exterior needs a transformation, you'll want to talk to Belk Builders, a premier NoDa exterior remodeling company. From siding to windows to finishing work, we can help you improve your home's aesthetics and performance. Call us today to start your project.