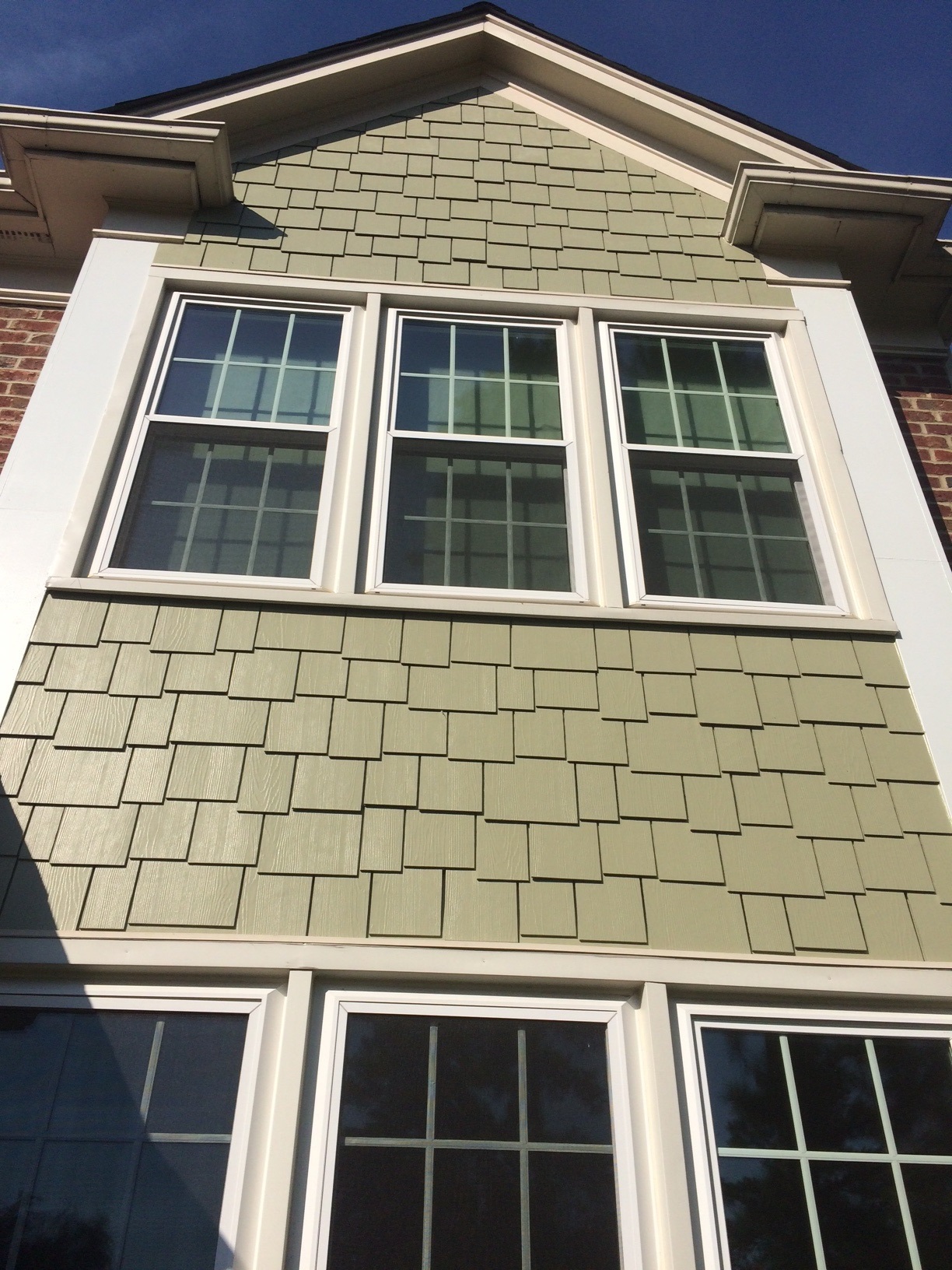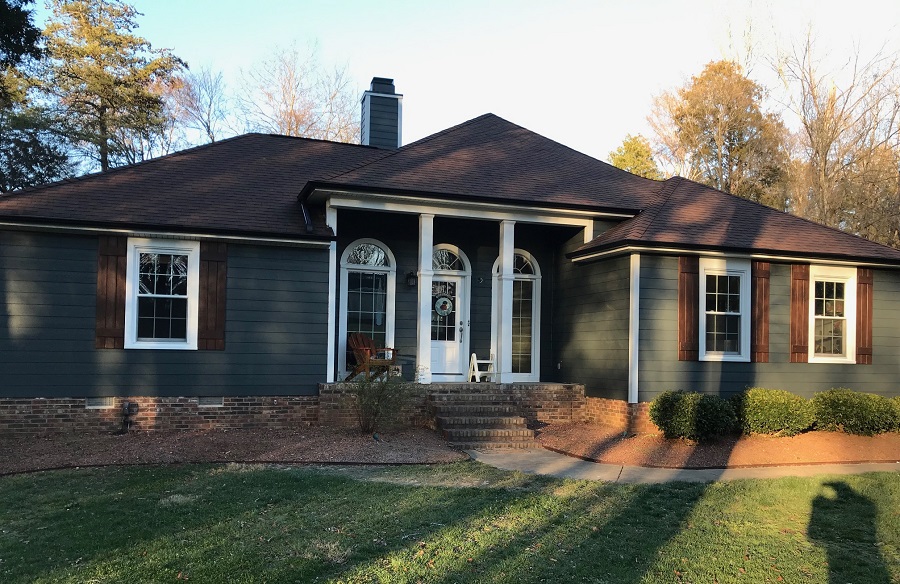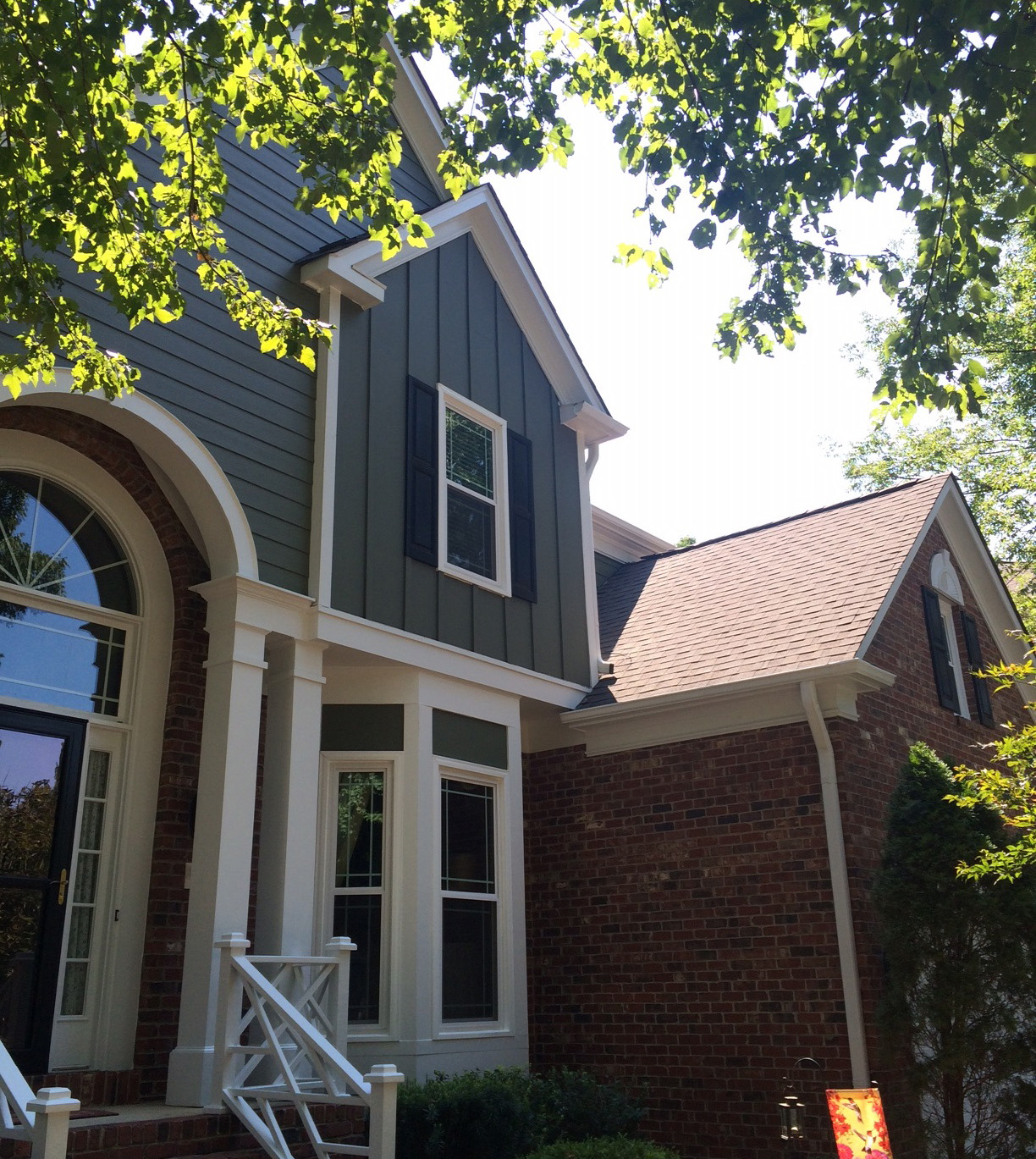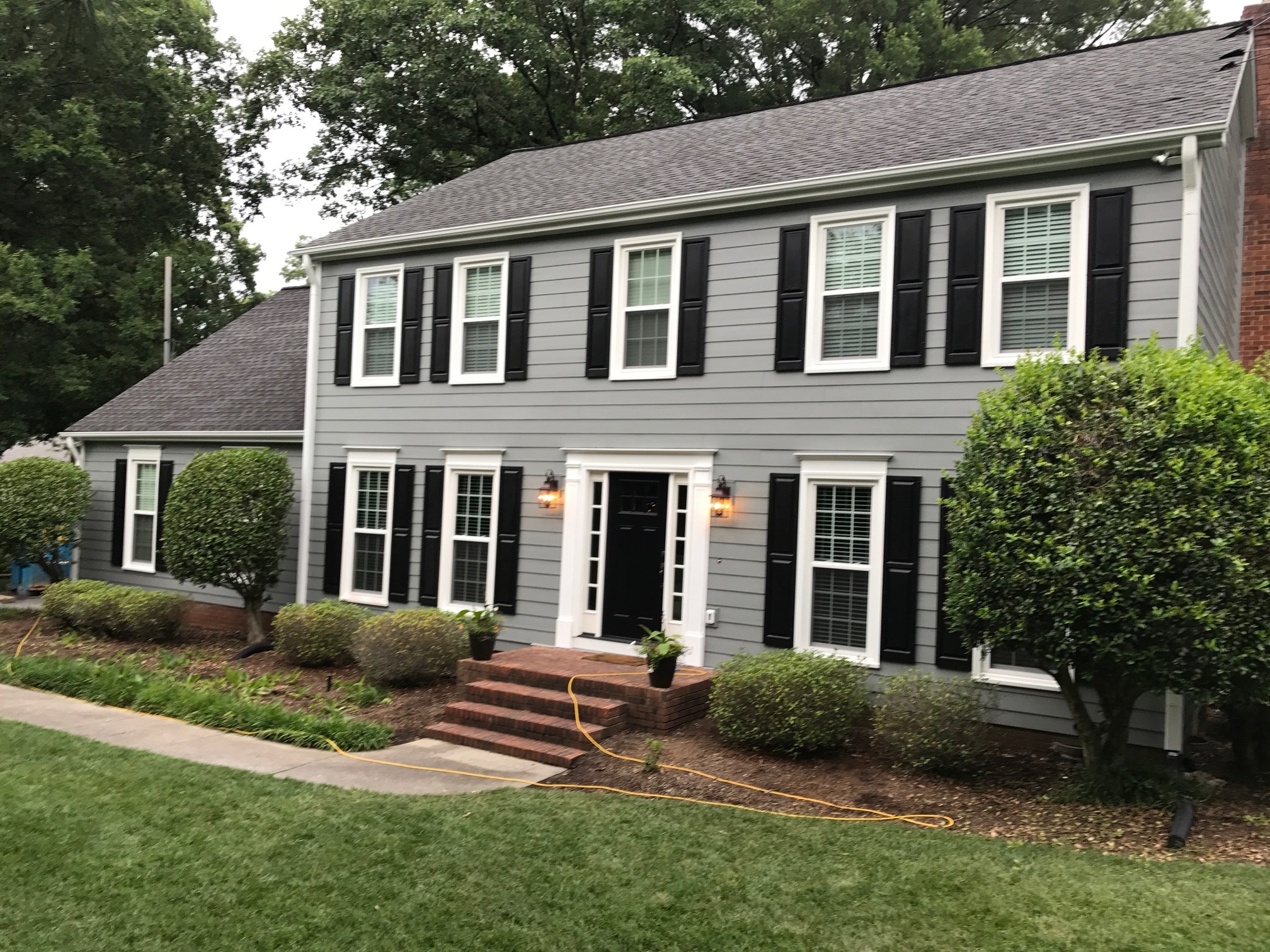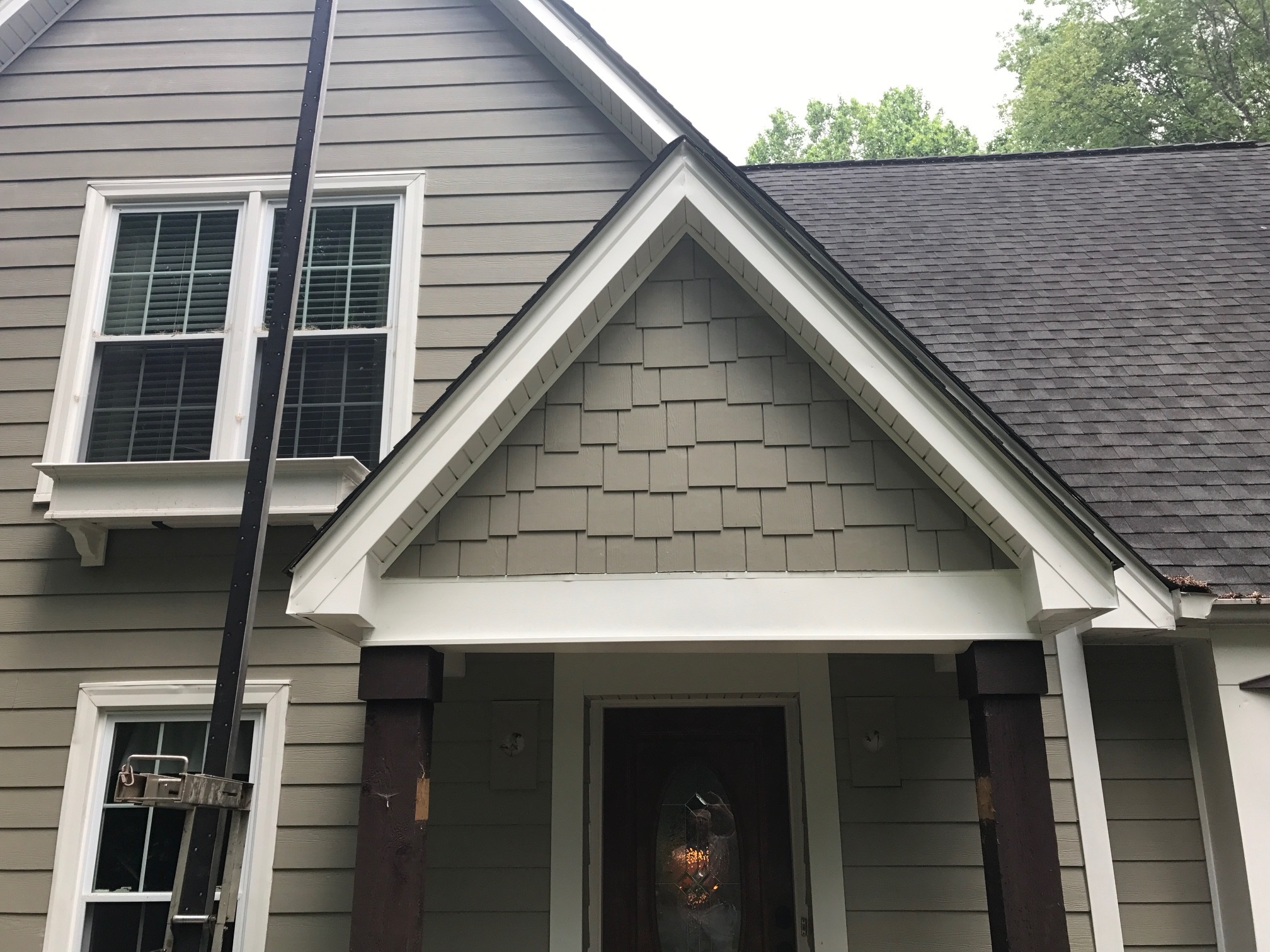 It is one thing for a company to claim they are among the best of the best, and another to have the credentials to back it up. Belk Builders has been providing Charlotte area homeowners with superior quality and craftsmanship through siding, window and roofing replacement for many years. Among our area of expertise is Hardie® Plank replacement siding.
Hardie® Plank siding from James Hardie® offers flexibility in architectural style and can be combined with Hardie® Shingle siding, Hardie® Trim boards, and Hardie® Soffit panels for a complete protection solution.
Products from James Hardie® have been installed on over 5.5 million houses in the U.S., making it the most popular brand of siding in America. This type of siding is made from only the highest-quality materials and can greatly increase your home's value.
In addition, this type of siding from James Hardie®:
Never needs to be painted and is very low on maintenance
Is resistant to moisture, mold, hot or cold temperatures, humidity, insect damage, and fire
Is environmentally friendly and contains no glass fibers, formaldehyde, or asbestos
Will never warp, rot, or rust
Is noncombustible and very durable
Will not expand or contract in extreme temperatures
Gives your home a classic appearance of real wood without the maintenance that wood siding requires
You can either remove your current siding and replace it with Hardie® Plank, or it can often be installed over the top of your current siding (as long as it is in good condition and provides a flat and even surface for installation).
Cement siding from Belk Builders is available with ColorPlus® Technology (prefinished) and is pre-primed with PrimePlus sealer and primer. We offer a 30-year non-prorated, transferable, limited warranty on all Hardie® Plank that we install.
Hardie® Plank Statement Color Collection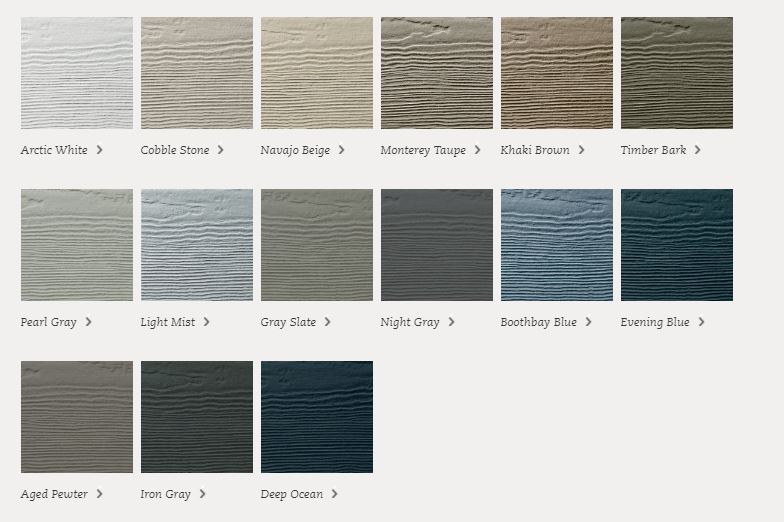 ColorPlus® is an advanced process used by James Hardie® for color is multi-faceted and delivers a long-lasting finish. It starts with applying multiple coats, about twice as many as the average house painter uses. Every surface and edge of the siding and trim is covered. Between coats, the finish is cured in a controlled environment for a stronger bond. This bond is so strong, it resists cracking, peeling, and chipping. Further, this proprietary finish is UV resistant. Standard paint will fade in the sun, but not ColorPlus® finished siding.
As a Charlotte Hardie® Plank siding installer, we highly recommend the durable and attractive cement board siding. One of the great things about Hardie® Plank siding is the color selection. Not only does the siding have ColorPlus® technology, which ensures a lifetime of vivid hues, but there are also so many options! You can learn more about the Hardie® Plank Statement Color Collection and custom colors in our story HARDIE® PLANK SIDING: REIMAGINE YOUR HOME'S EXTERIOR WITH STUNNING COLORS.
James Hardie® products can be difficult to install, due to the weight and size of the siding panels. It is important that you choose a qualified Hardie® Plank installation company that has all the proper tools and experience to make your project a success. At Belk Builders, we can meet all these needs and more. Your satisfaction is our #1 goal!
Available with ColorPlus® Technology (Prefinished)
Resists damage from cold
Resists damage from wet, humid climates
Resists insect damage
Fire resistant
Pre-primed with PrimePlus sealer and primer
Has a 30-year non-prorated, transferable, limited warranty
Feeling pride in the look of your home and confidence in the materials in which it is shielded from the elements is the end result Belk Builders strives to provide each of our clients. From the first year to years later, the beauty of Hardie® Plank siding is unrivaled. Because it's created to stand up to the demands of virtually every climate, James Hardie® siding stays beautiful longer, reducing time and money spent on maintenance. Unlike other siding materials, it can resist expansion and contraction, retaining finish adhesion over time. And with ColorPlus Technology, a baked-on color option, you get vibrant color and a long-lasting, beautiful exterior.
Your satisfaction is our #1 goal! Being a local, family owned business, our roots in the Queen City run deep and we pride ourselves in taking care of our community. If you are ready to learn the true potential of your home's exterior, contact us at (704) 400-4710 or visit our website today to learn more, or schedule a free estimate!
Testimonials
I was surprised the owner stopped by every day to check on how our job was progressing. He would then knock on my door and ask me if I had any questions. I was impressed.
I was very pleased to work with Belk Builders.
They finished job looks exactly the way I expected. They did exactly what they said they would. Great job!
They offered several more options in materials than the other companies I interviewed.
Kent was very nice and polite. He explained everything in detail and asked us what we wanted rather than wasting our time with items we were not interested in.
I now have the best looking home in our neighborhood. Thanks
The installation crew knew what they were doing. I was extremely impressed with their eye for detail and their clean up after the job was completed.
They kept in contact with me before and during the job, answered all my questions, were on time and finished in a timely manner.
My wife and I didn't think we could afford the work but with the financing options and low interest rates they offered, it fit perfectly into our budget.
I made a great decision in going with Belk Builders. I shopped around and received four estimates. After considering value, quality and price, I feel confident of my decisions
I was highly impressed with everything- the price, the quality of the windows and the workmanship.
The quality of their workmanship and materials were first class. I would definitely recommend Belk Builders to all my friends and neighbors.