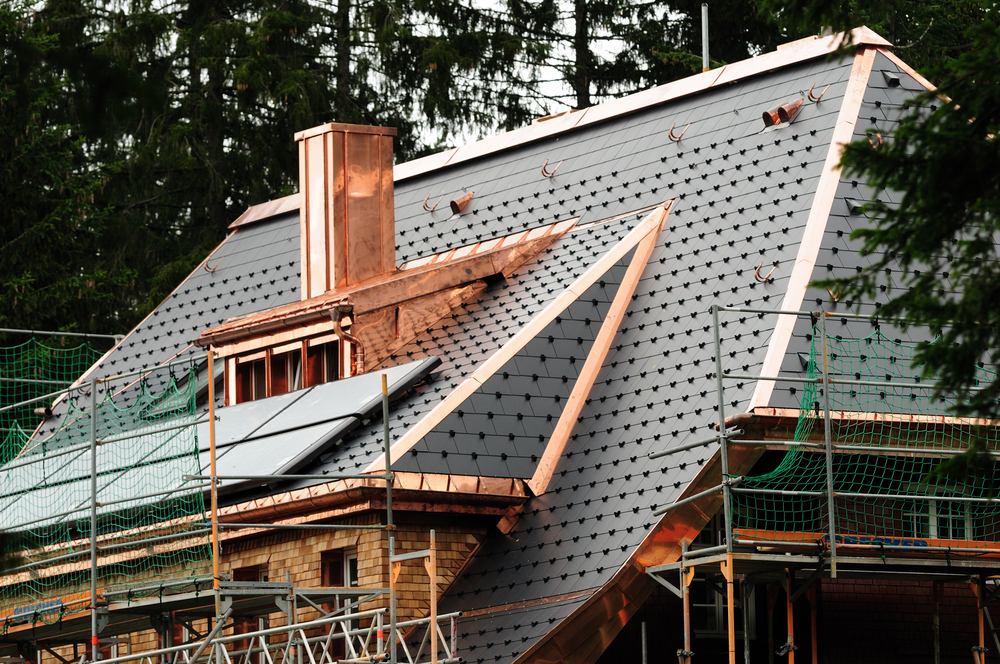 Copper Roofing, Accents, and Porch Toppers
Are you considering copper roofing for your home? Need a copper roofing installer in Charlotte? Rely on Belk Builders for quality work at an affordable price.
Copper Is Durable and Sophisticated
Copper roofing adds sophistication and aesthetic appeal to any home. As copper roof contractors, we've had the opportunity to add this timeless look to many properties in the greater Charlotte area. We provide services for copper roofs, copper accent roofing, and copper roofing for porches.
Beyond the attractiveness of copper, it's also highly durable and environmentally friendly. It can last for decades.
Copper Roofs
Copper roofing is distinctive and exquisite. But it's not just pretty. It's one of the best materials for resisting the elements. Copper roofing is bright bronze in color after installation. Over time it turns a beautiful green patina due to oxidation, with no finishing or painting required.
With a professional copper roof installation, you'll enjoy it for years to come with virtually no maintenance.
Copper Accent Roofing
Homeowners can also choose copper accent roofing to add a touch of charm. You can choose to accent several specific areas of your roof, including the roof bents, chimney caps, finials, weathervanes, and cupolas. If your home has upper floor windows that protrude out in a pitch or other structure, we can add copper accent roofing to these areas, so they stand out and impress.
Accent copper roofing is a great way to add character to your already unique home. Although it is the more expensive choice of popular metal roofing materials, including aluminum and steel, accent roofing can help with costs, while still giving you the shine and elegance that comes with copper.
Beyond these accents, you can also add elegance with copper gutters and copper flashing.
Copper Roofing for Porches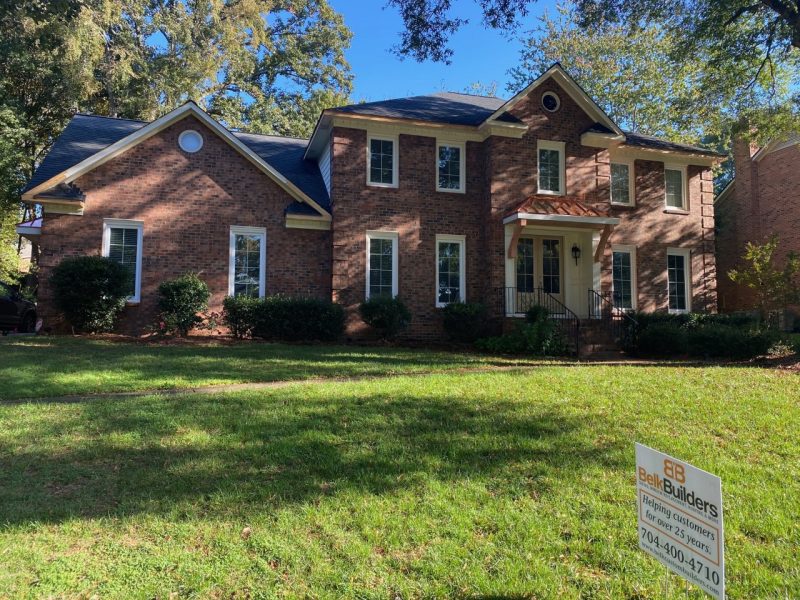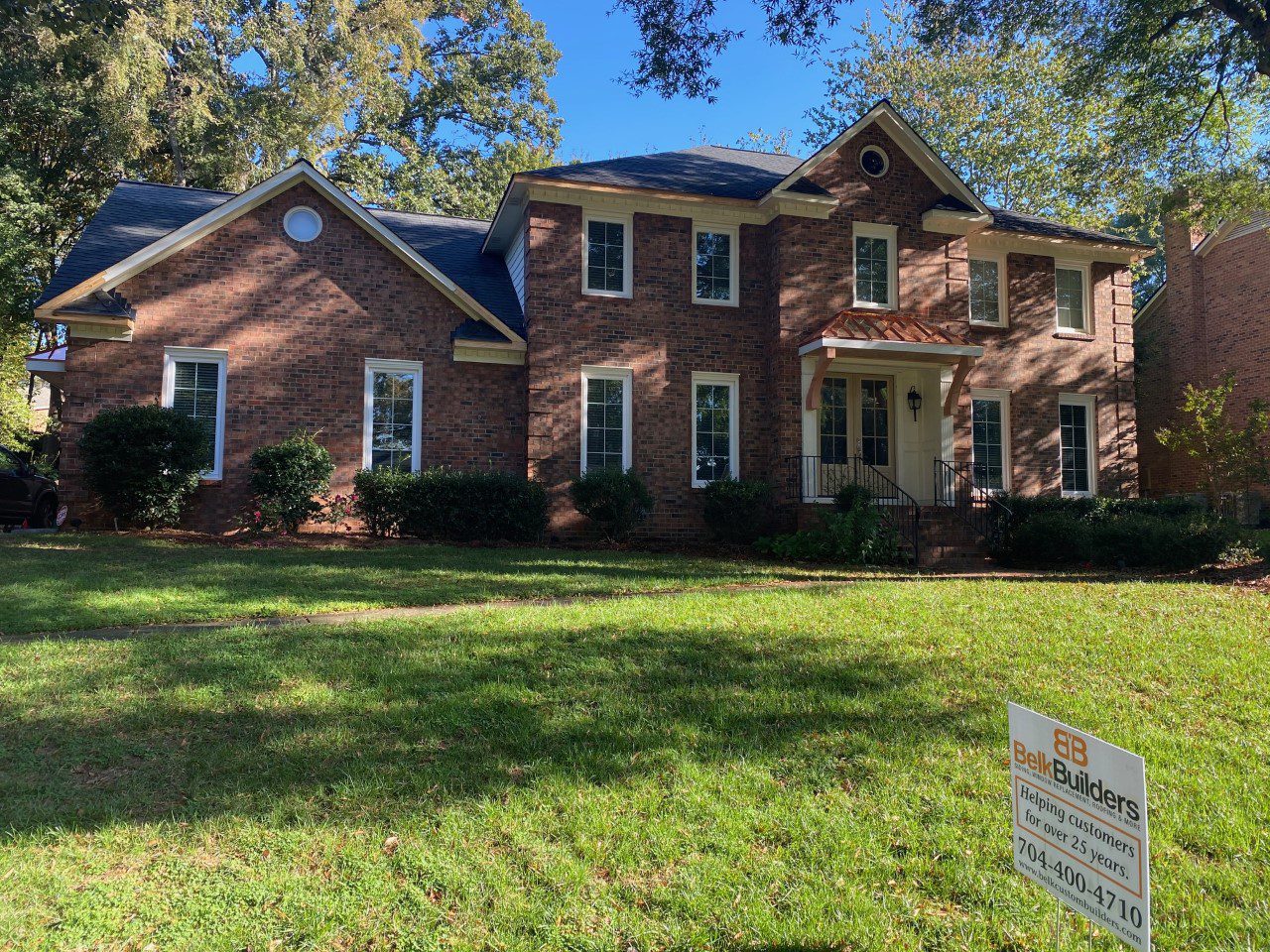 Another hot trend in copper roofing is copper roofing for porches. Adding copper to your porch roof is a dramatic way to add depth. Whether you have a large front porch or only a small awning above your front door, copper roofing will look amazing. You'll be adding aesthetic appeal while also ensuring the roof will stand up to nature and time.
Copper Roofing FAQs
If you're considering copper roofing, find answers to the most common questions here.
How long will a copper roof installation last?
A copper roof typically lasts longer than traditional shingle roofs. If installed correctly, they can last from 60 to 100 years, requiring little maintenance.
How long does it take for copper roofing to weather?
The oxidation process and turning the copper roofing from bronze to green varies depending on the climate. The more it's exposed to weather and air pollutants, the faster the oxidation process.
Do copper roof installers need special training?
Installing a copper roof is a specialized skill and much different than shingle roof replacement. Belk Builders' team of roof installers has experience and expertise in this area.
Is copper roofing affordable?
Copper roofing is more expensive than shingles. However, it lasts much longer, so you aren't replacing it every 10 to 15 years like a standard roof. In the end, you'll save money with copper roofing.
Finding an Experienced Copper Roofing Contractor 
A coppersmith is a rare find these days, but Belk Builders is proud to offer its Charlotte-area copper experts to design the one-of-a-kind roof you're wanting. Rely on Belk Builders to install your new copper roofing, accents, or porch toppers. We have the skills to ensure your copper roof installation will last for years.
Contact us today to discuss copper roofing options.

Testimonials
I was very pleased to work with Belk Builders.
I was surprised the owner stopped by every day to check on how our job was progressing. He would then knock on my door and ask me if I had any questions. I was impressed.
The installation crew knew what they were doing. I was extremely impressed with their eye for detail and their clean up after the job was completed.
I now have the best looking home in our neighborhood. Thanks
I was highly impressed with everything- the price, the quality of the windows and the workmanship.
They kept in contact with me before and during the job, answered all my questions, were on time and finished in a timely manner.
Kent was very nice and polite. He explained everything in detail and asked us what we wanted rather than wasting our time with items we were not interested in.
My wife and I didn't think we could afford the work but with the financing options and low interest rates they offered, it fit perfectly into our budget.
The quality of their workmanship and materials were first class. I would definitely recommend Belk Builders to all my friends and neighbors.
They finished job looks exactly the way I expected. They did exactly what they said they would. Great job!
They offered several more options in materials than the other companies I interviewed.
I made a great decision in going with Belk Builders. I shopped around and received four estimates. After considering value, quality and price, I feel confident of my decisions