This feature story was a unique project for Belk Builders. A classic brick and siding split-level needed a modern update for aesthetics and safety. Our team was able to transform this Charlotte home from dated to dazzling. Here's how we did it.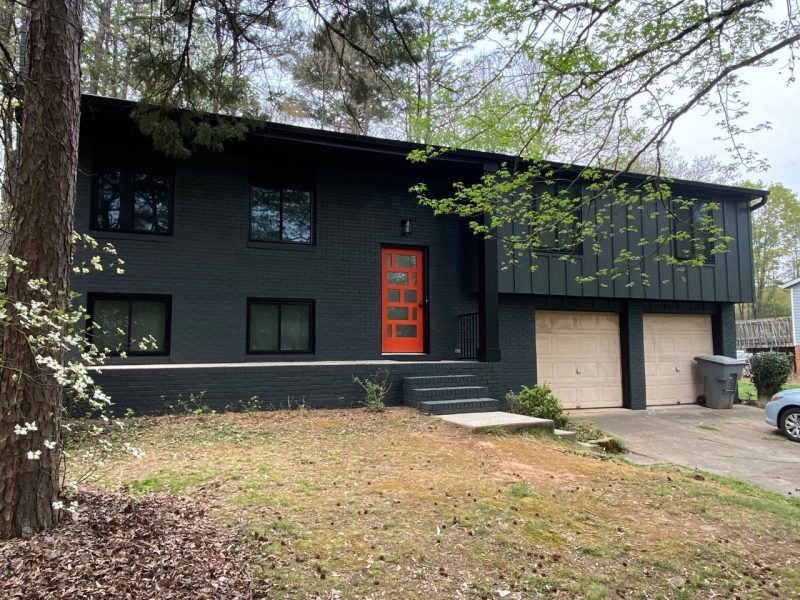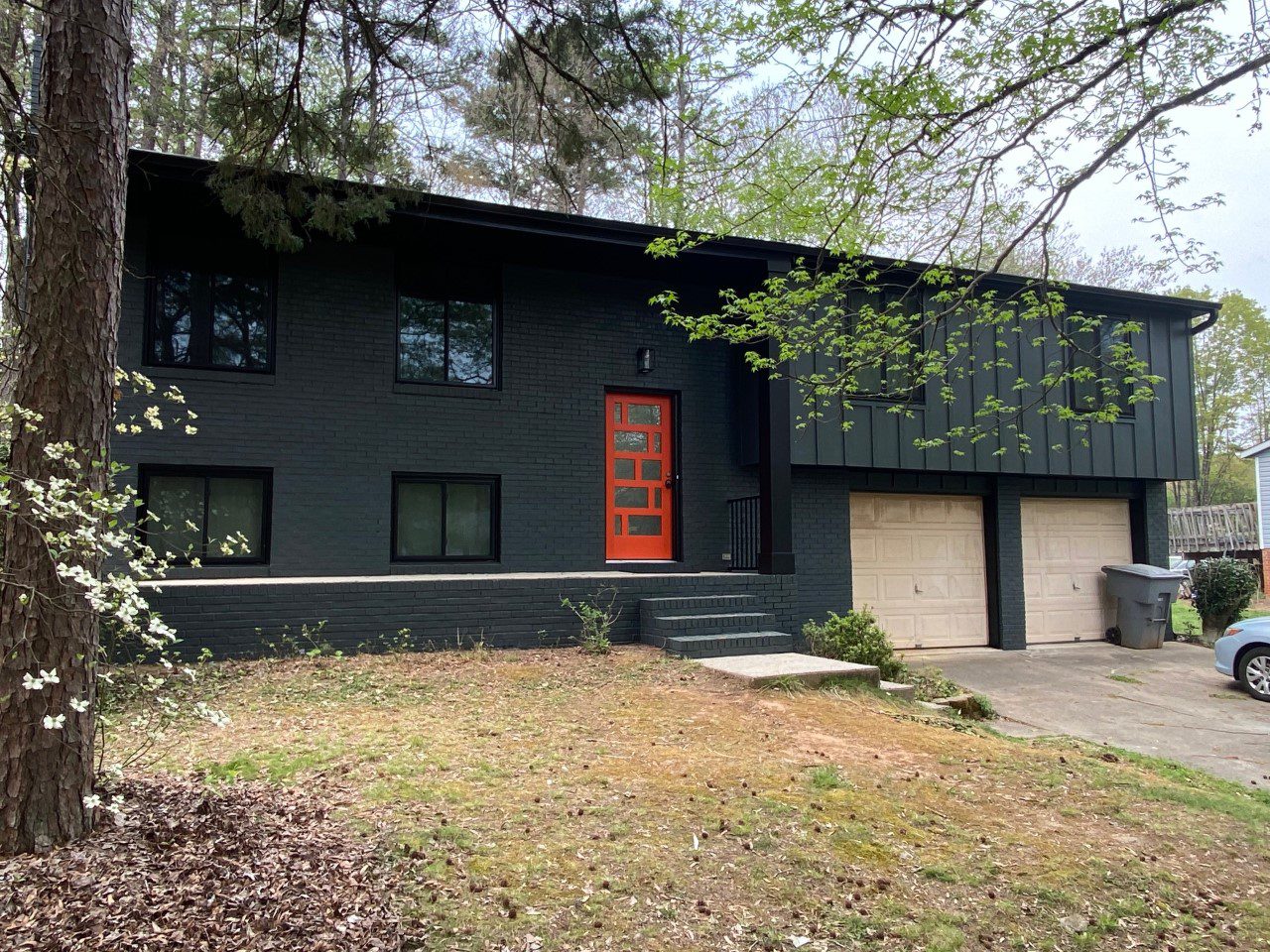 Aluminum Siding Replaced with Hardie® Plank
The areas of the home that weren't brick had aluminum siding. I was failing in many places and was impacting curb appeal. We removed all the siding and replaced it with fiber cement siding by Hardie® Plank in graphite gray. With Hardie® Plank siding, the homeowners will avoid all the challenges of aluminum siding. It's resistant to moisture and will never rot, crack, or warp. It requires no maintenance, and the color won't fade. We highly recommend it for its beauty and durability.
The new siding installation was vertical in a board and batten style. Board and batten became popular hundreds of years ago. The battens, which are the thin vertical pieces, actually covered up the seams. In modern installation, they are decorative in nature.
Painted Brick Elevates Home's Appearance
The rest of the home was brick and had that quintessential 1970s look. It's amazing what a little paint will do to modernize old bricks. We painted the brick in the same color as the siding, so it blends seamlessly and creates a dramatic impression.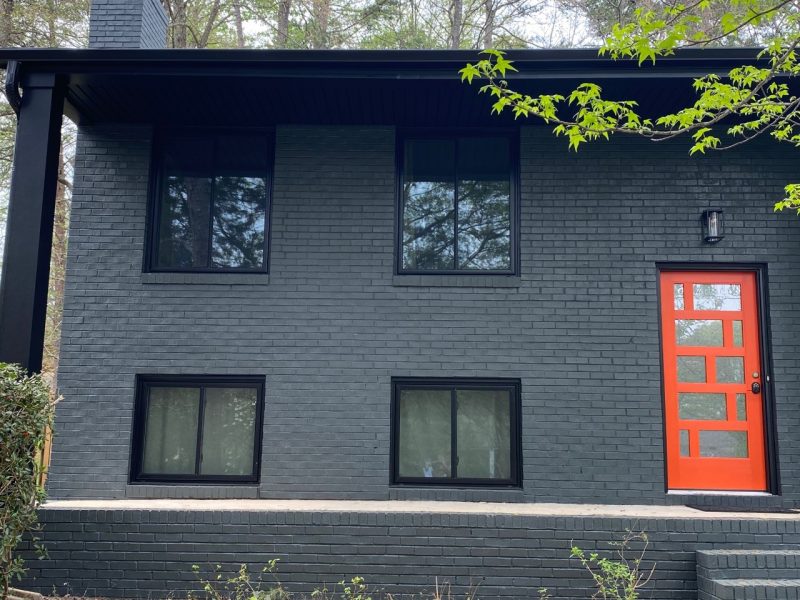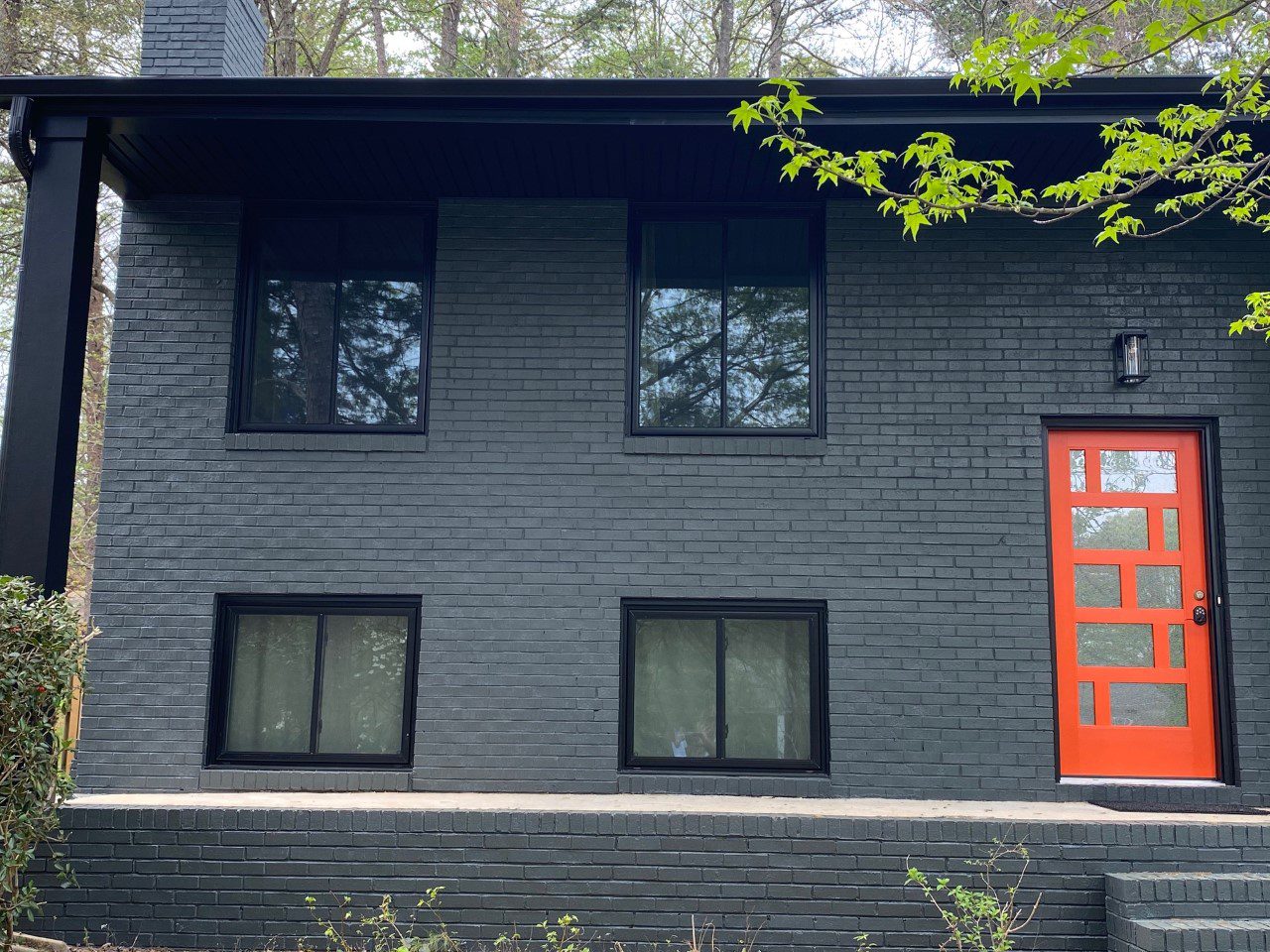 Replacing the Front Posts 
In the before picture, you'll see four posts on the front porch of the house. Not only did they lack in appeal, but they also weren't load-bearing. Due to this, they represented a safety problem. We safely removed the old posts and put in two new 6 x 6 pressure treated columns to frame the porch area. We then installed Hardie® Plank around them. We added new black aluminum railing around the posts, too.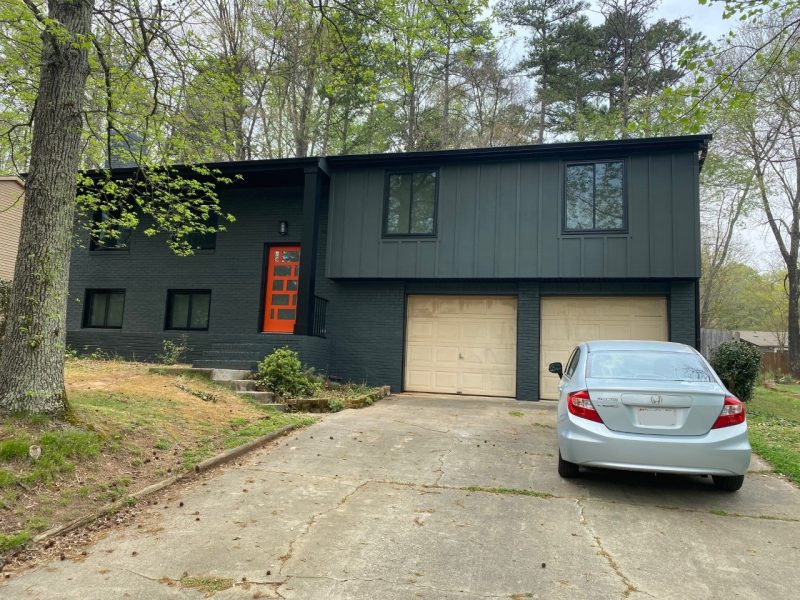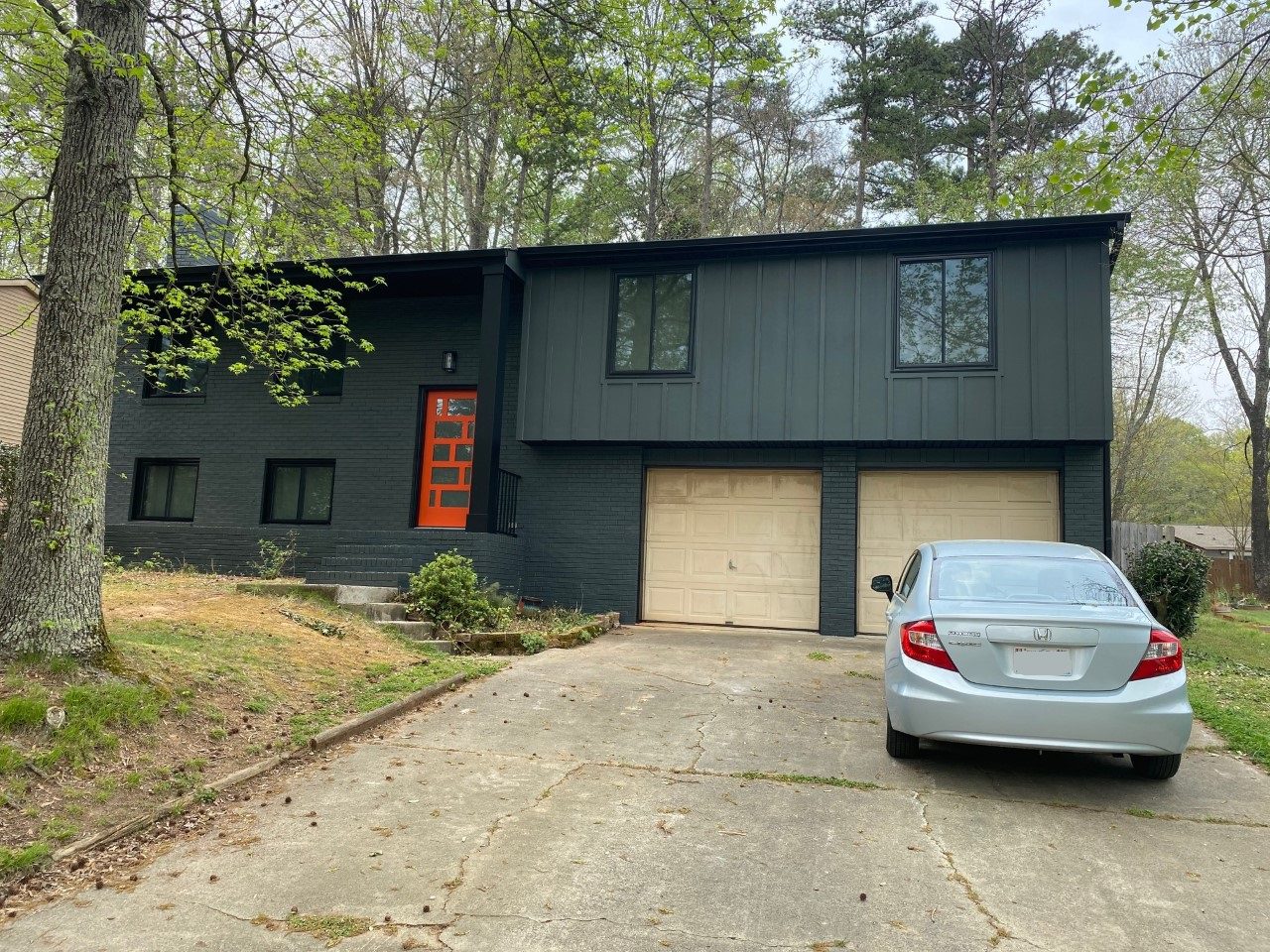 New Windows and Doors Finish the Transformation
We started by removing the existing vinyl windows and replaced them with new ones with black frames. Black framed replacement vinyl windows are very popular right now, and they look striking with the new gray exterior. Taking down the old shutters also added to the modern look. Additionally, we installed black frame sliding glass doors.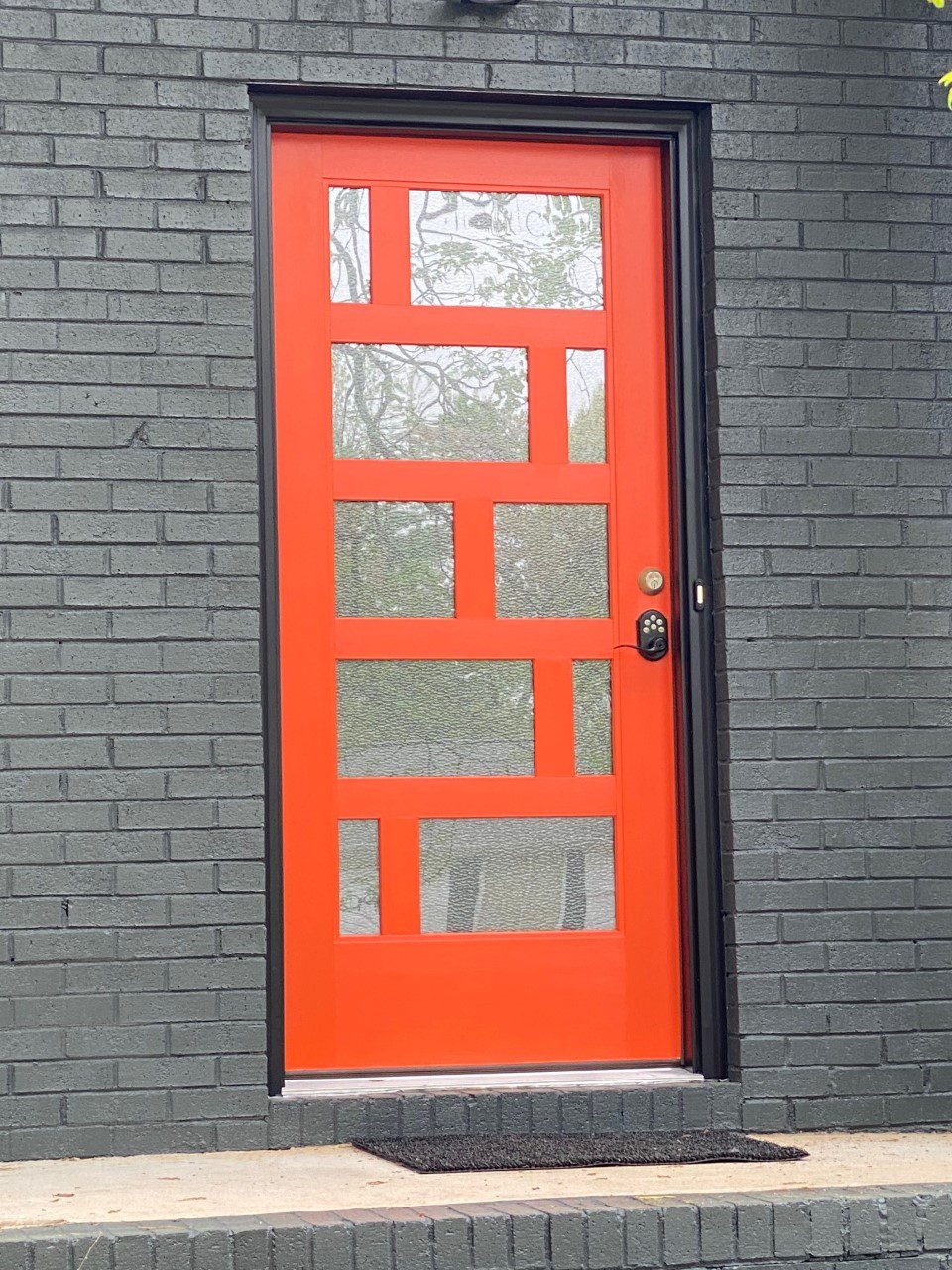 To make a huge impact, the homeowners wanted something bold for their new front door. We started with a fiberglass Therma Tru door with a modern pattern. Fiberglass is one of the best materials for front doors because it doesn't react to temperature changes, so there's no contracting. It also won't warp or crack and can improve energy efficiency in a structure. To give the front door a little more pop, we painted it a vibrant orange. The homeowners plan to carry this look to the garage doors, as well.
The Right Materials and Creativity Can Transform Any House
In looking at the before and after pictures, it almost doesn't look like the same house. It's a great example of how new materials and imagination can change everything. If your Charlotte home's exterior could use a refresh, you can count on the team at Belk Builders to make it happen. Contact us today to discuss your renovation ideas.