Charlotte CertainTeed Siding Installers: Raising the Bar in Home Improvement
Belk Builders doesn't just claim to be exceptional; we have the credentials to prove it. We have been transforming homes in the Charlotte area for years with top-of-the-line siding, windows, and roofing solutions. We're thrilled to announce that we are now Charlotte CertainTeed Siding installers, offering another layer of quality and performance in home exterior solutions.
CertainTeed Vinyl Siding offers homeowners a blend of durability, low maintenance, and aesthetic versatility. This renowned siding option integrates perfectly with other exterior components like trim and panels to offer a complete home exterior solution. No wonder CertainTeed Siding is popular for those seeking to elevate their home's curb appeal and long-term value.
Charlotte CertainTeed Siding: Features and Benefits
With Charlotte CertainTeed Siding, you're not just purchasing a product; you're investing in a series of remarkable benefits:
Low Maintenance: Forget frequent painting or sealing. CertainTeed Siding only needs basic cleaning to retain its fresh look.
Weather Resilient: This siding stands up to varying weather conditions—heat, cold, or moisture—easily.
Environmental Responsibility: CertainTeed Siding is made from safe, sustainable materials and aligns with eco-friendly home solutions.
Design Flexibility: From classic to contemporary, there's a style and color for every architectural preference.
Color Selections Available: Make a Statement with Charlotte Certainteed Siding
One of the standout features of Charlotte Certainteed Siding is the expansive array of color options that allow you to personalize your home's exterior. From tranquil blues to earthy reds, Certainteed's comprehensive Color Page offers a palette that caters to diverse aesthetic preferences. These carefully curated colors are designed to resist fading and weathering, ensuring your home stays vibrant through the seasons.
If you're uncertain about how a particular shade will look on your home, CertainTeed simplifies the decision-making process with a user-friendly virtual design tool on their Inspiration page. This tool allows you to visualize different color combinations on your home, providing real-time satisfaction and peace of mind. With Belk Builders as your trusted installer, choosing the perfect color becomes an exciting journey toward realizing your dream home.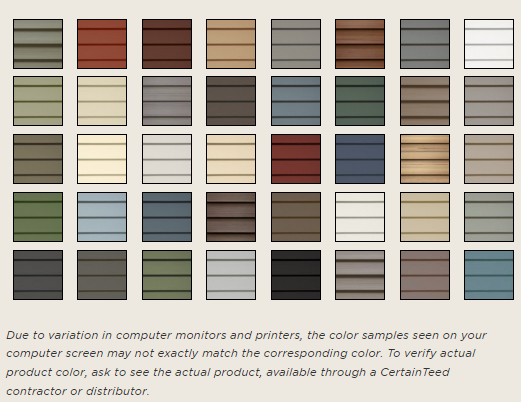 Siding Installers Who Offer CertainTeed Siding: Why Choose Us?
Choosing a Charlotte Certainteed Siding installer is as critical as the product itself. Our team is proficient in handling the complexities of installing CertainTeed Vinyl Siding, ensuring seamless workmanship. Your home is your sanctuary; it deserves nothing less than the best, and at Belk Builders, the best is what we offer.
Complementary CertainTeed Products for a Cohesive Exterior
CertainTeed offers a broad portfolio of products, allowing you to curate a harmonious exterior:
Warranty and Customer Satisfaction
Just like our other premium offerings, our CertainTeed Siding installation comes with a solid warranty, underscoring our commitment to quality and customer satisfaction. At Belk Builders, your contentment isn't just our goal; it's our guarantee.
Local Commitment, Quality Service
Being a family-owned business deeply rooted in Charlotte, we are invested in enhancing our community one home at a time. Ready to unlock the true potential of your home's exterior? Reach out to us at (704) 400-4710 or fill out our contact form today to request more information or to schedule your free estimate.
With the addition of CertainTeed Vinyl Siding to our extensive portfolio, Belk Builders continues to raise the bar in home improvements. Long-lasting, aesthetically pleasing, and low maintenance—CertainTeed Vinyl Siding delivers on all fronts. With Belk Builders as your installer, you're investing in unparalleled quality and customer satisfaction. Upgrade today; your home deserves it.
Testimonials
I was surprised the owner stopped by every day to check on how our job was progressing. He would then knock on my door and ask me if I had any questions. I was impressed.
They offered several more options in materials than the other companies I interviewed.
The quality of their workmanship and materials were first class. I would definitely recommend Belk Builders to all my friends and neighbors.
My wife and I didn't think we could afford the work but with the financing options and low interest rates they offered, it fit perfectly into our budget.
I was very pleased to work with Belk Builders.
They finished job looks exactly the way I expected. They did exactly what they said they would. Great job!
They kept in contact with me before and during the job, answered all my questions, were on time and finished in a timely manner.
I was highly impressed with everything- the price, the quality of the windows and the workmanship.
Kent was very nice and polite. He explained everything in detail and asked us what we wanted rather than wasting our time with items we were not interested in.
The installation crew knew what they were doing. I was extremely impressed with their eye for detail and their clean up after the job was completed.
I made a great decision in going with Belk Builders. I shopped around and received four estimates. After considering value, quality and price, I feel confident of my decisions
I now have the best looking home in our neighborhood. Thanks