When looking to update a Tega Cay home's exterior, the owners tapped Belk Builders to peel away the not so attractive exterior and boost its appeal. Transforming the outside of homes is our specialty, and we're glad to bring you another feature story.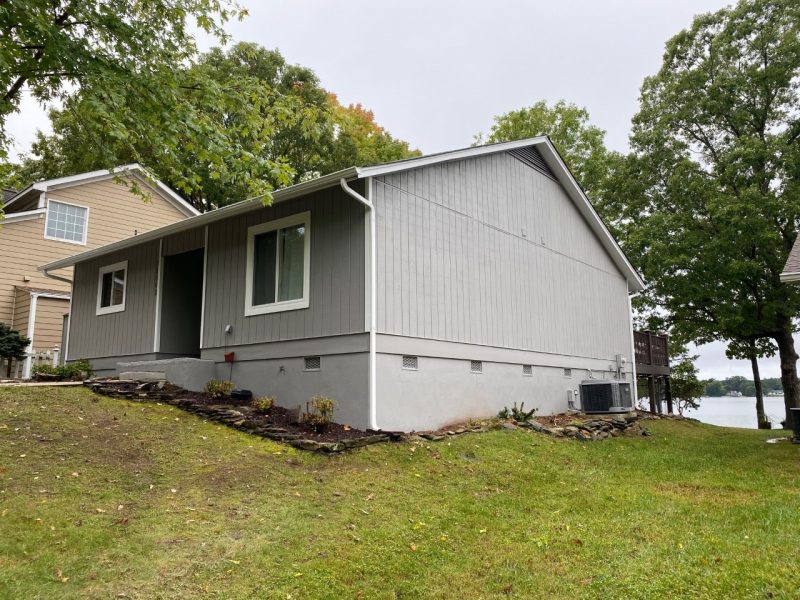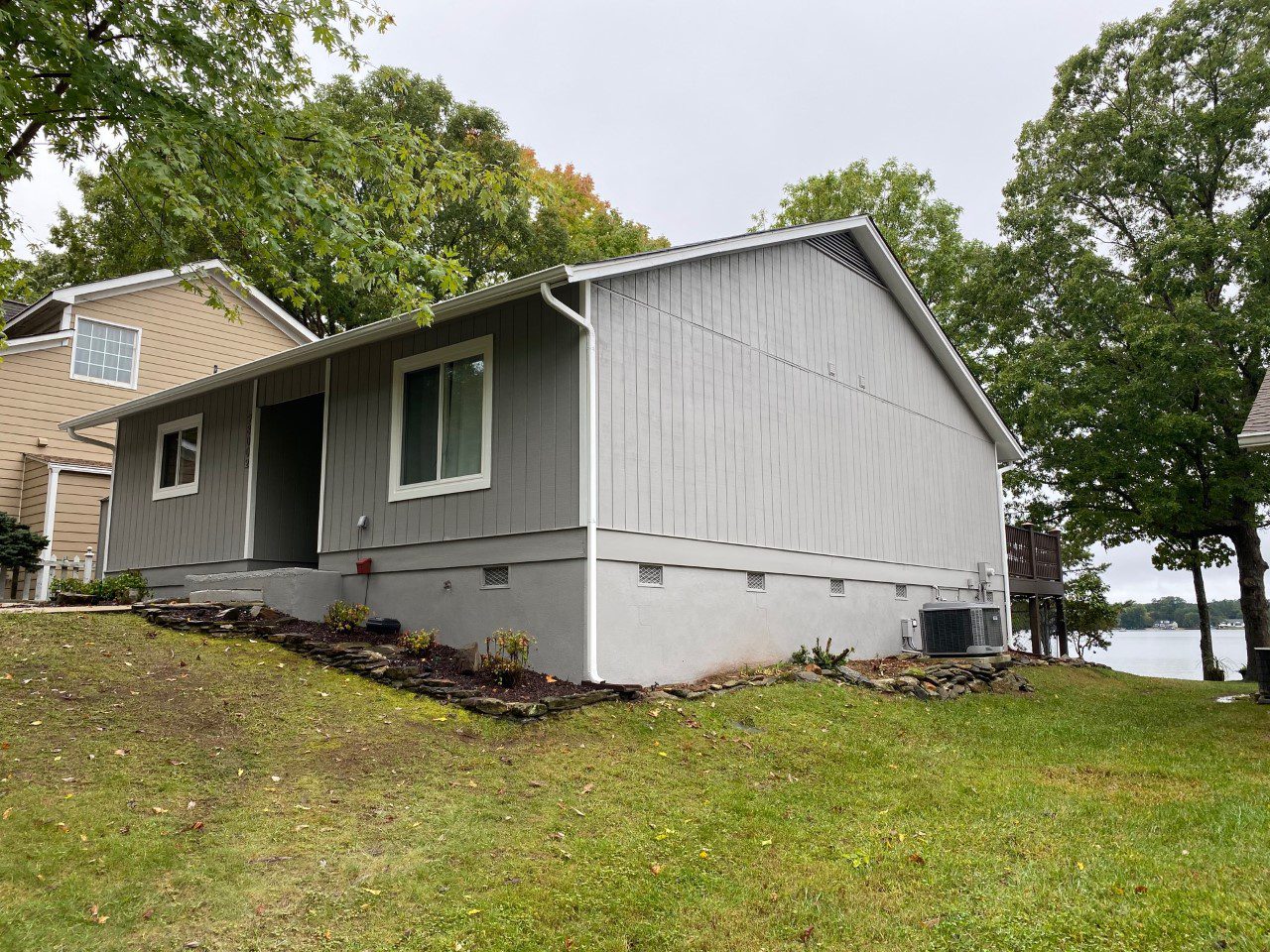 She May Be Little, But She's Now Fiercely Appealing
Sitting on the lake near the marina in Tega Cay, the house doesn't have a large square footage, but having an appealing façade doesn't require size. The home needed an exterior overhaul, starting with removing the rotted T1-11 siding.
The homeowner opted to tackle only a portion of the home's exterior right now and after the old siding was gone, we made any necessary repairs. We then installed new T1-11 siding and painted it a rich gray color. T1-11 siding is a bit of a "blank slate" for our projects. You can transform it in so many ways, which we did with high-quality paint. The siding sheets feature a "groove" that provides a board and batten look. The siding is vertical, which elongates the home and creates visual interest so that viewers see it larger
Gray exteriors are very popular right now. It's the new must-have neutral, exuding sophistication and modern charm.
New Windows, Too!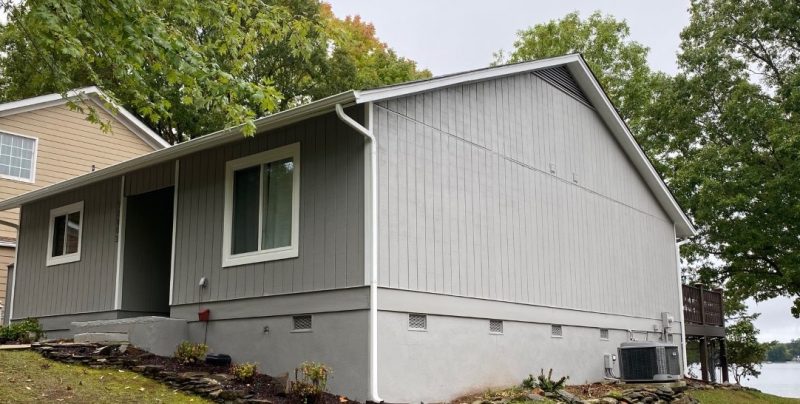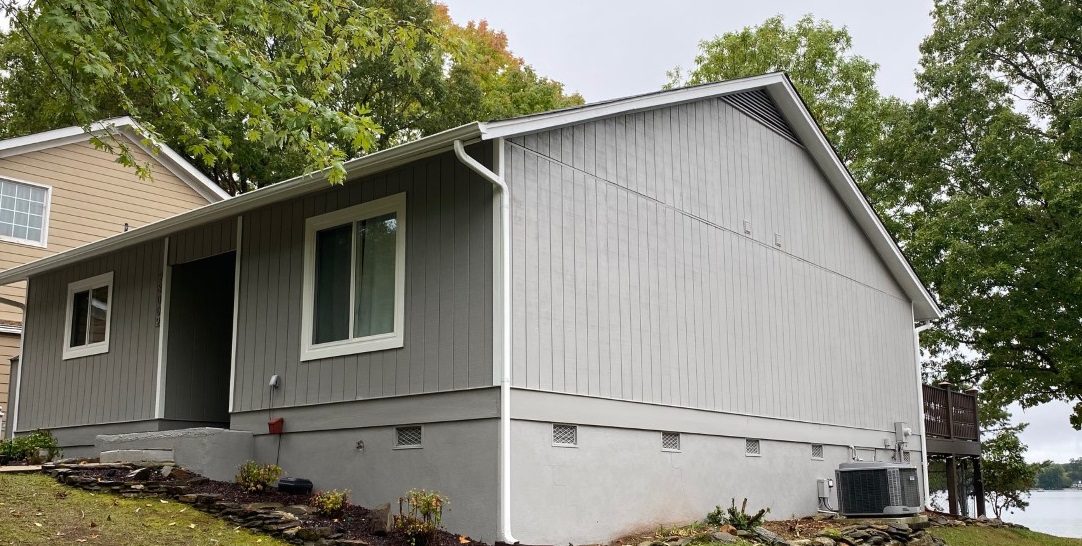 In addition to the siding revamp, we installed two new premium vinyl windows. These new windows are very attractive with white frames that complement the gray nicely. Not only are these windows aesthetically pleasing, but they are also well-made durable products. With these new energy-efficient windows, the homeowners could enjoy lower energy bills. They won't have to worry about leaks, cracks, or security issues that often plague old windows.
More Exterior Touches
Our crew also stained the back deck, so the homeowners could enjoy while looking out at the lake. They can access the deck much easier now with the new sliding glass door we installed. The door adds beauty and functionality, and they can expect years of use out of it.
Tega Cay Exterior Renovations by Belk Builders
We're glad to provide exterior renovations from Tega Cay homeowners. We offer siding, replacement windows and doors, roofing services, specialty accents, and more. If you're ready to spruce up your home's look, call us today at 704-400-4710 to discuss your project.