A house's exterior is the first thing you notice—the architecture, color, siding, and windows all make up this view. As a result, many homeowners are eager to revamp their properties for a fresh, appealing look. We recently had the pleasure of completing a home exterior makeover of this South Charlotte home, using Hardie® products and Simonton replacement windows. Here's more information for inspiration.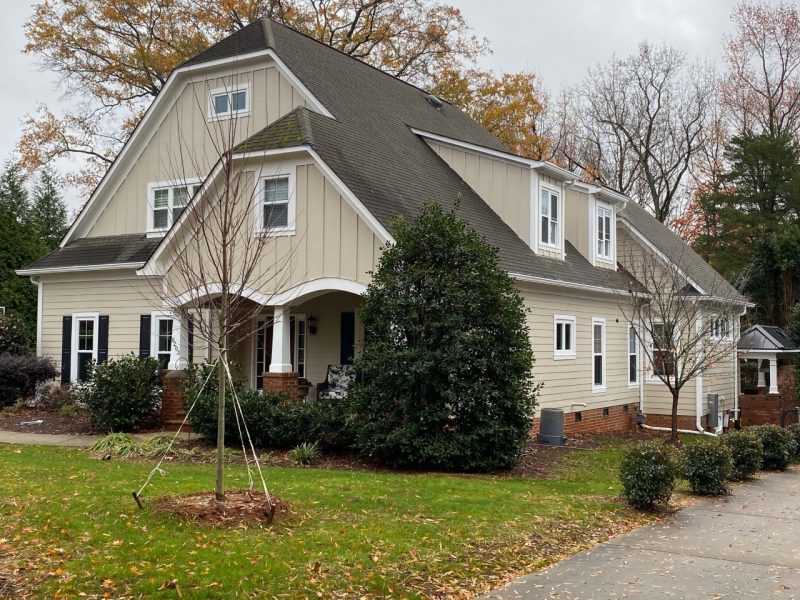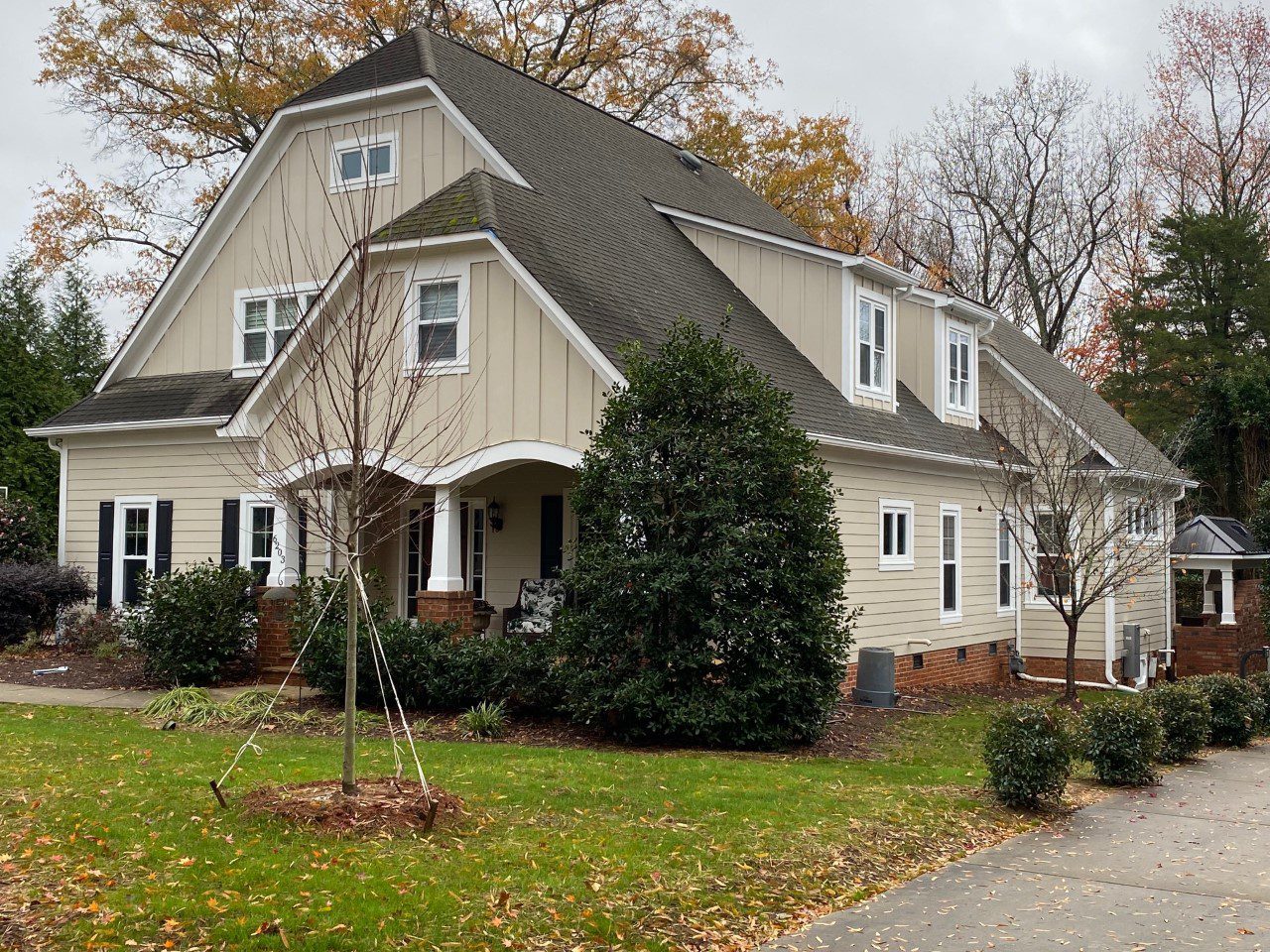 Hardie® Board & Batten Siding Blend Traditional and Contemporary
Hardie®Plank products are some of the most durable and popular. What makes them unique is that they consist of fiber cement. This material provides some impressive benefits, including:
Never needing to repaint the siding because the color is baked in
Low maintenance to keep up the look and integrity of the product
Eco-friendly materials, free from glass fibers, formaldehyde, and asbestos
Resistance to moisture, insect damage, fire, rusting, and rotting
Not responding to cold or heat, so there's never contracting or bowing
In addition, Hardie® shingles and siding provide a classic look of real wood without all the work. There are many different options for Hardie®Plank, both in the products, colors available, and installation. For this home, the owners sought a mix of traditional and contemporary.
The traditional aspect is the board and batten installation, which is reminiscent of farmhouses. The large siding planks run vertically (the board) with thin strips of wood molding between them (the batten). Traditionally, the battens covered seams for a more efficient structure. They no longer have a practical benefit and are ornamental.
By using this style of siding on the second level and the dormer over the front porch, it creates more visual interest while complementing the standard horizontal lap siding on the first floor. The light beige coloring of the siding appears in harmony with the white window frames and dark shutters.
In addition to the siding replacement, we also installed new windows.
Simonton Energy-Efficient Windows Offer Aesthetic Appeal and Function
Windows are a key component of every house. They have a dual role in providing aesthetic appeal and function. This South Charlotte project required a variety of window styles and sizes and larger white framing, which adds to the design. The windows are more than beautiful. They also must be efficient.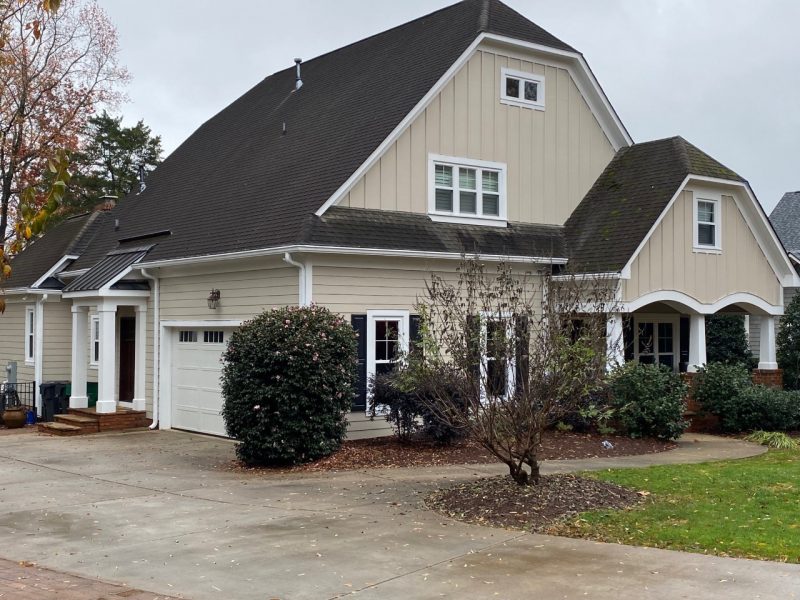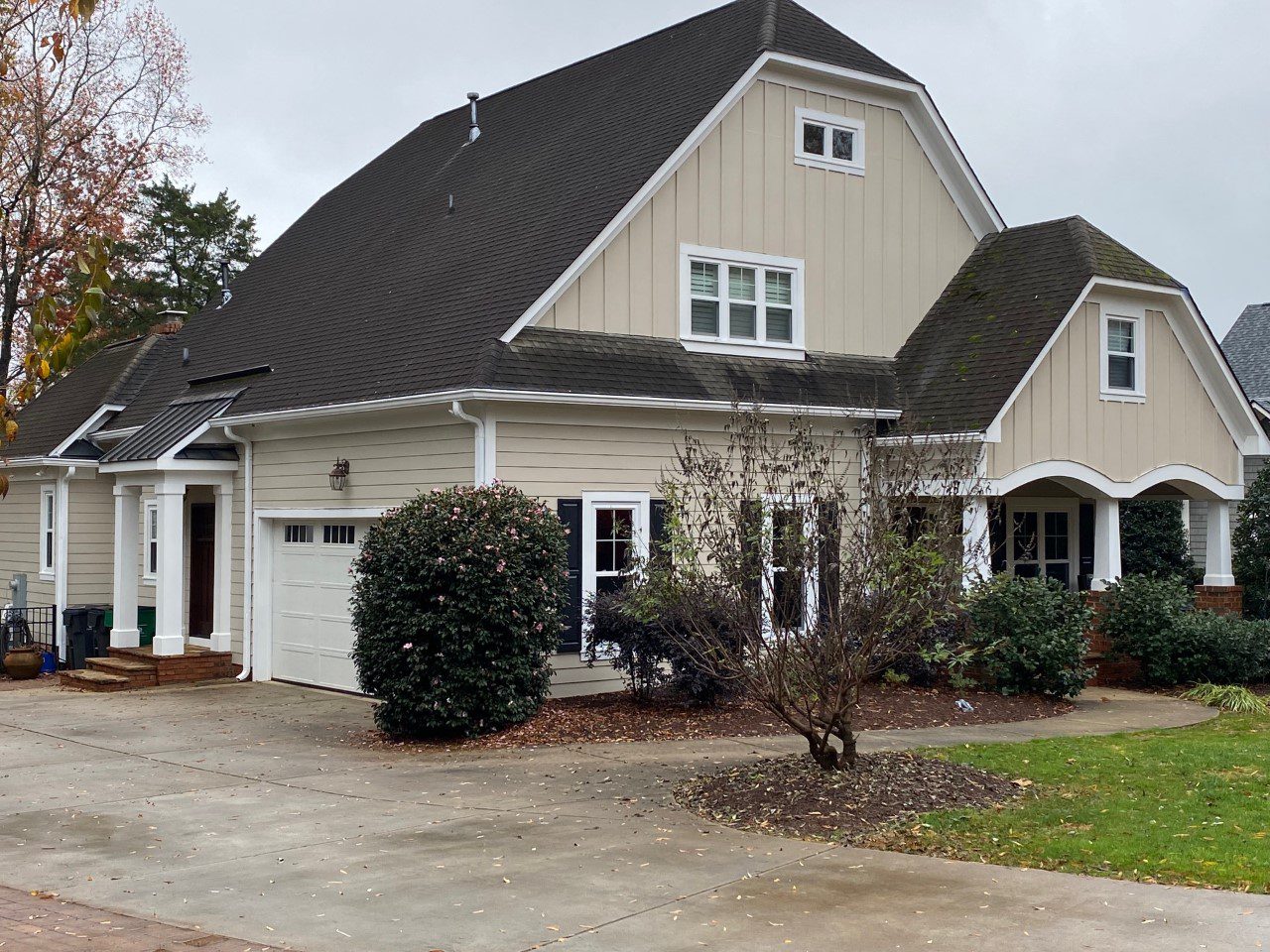 Windows are often the leading cause of interior temperature changes, letting cold air in during the winter or trapping too much heat in the summer. The homeowners can keep things just as they like inside with these Simonton energy-efficient replacement windows. ENERGY STAR® recently awarded the brand as the most efficient. They have attributes that helped them earn this distinction, including triple-pane glass for thermal protection and Low-E (low emissivity) coatings to block UV rays while letting natural light through.
Simonton windows are also cost-effective, require minimal upkeep, and have a long, useful lifespan. We're proud to recommend them to our customers. As you can see in the images, the windows are the perfect fit for the home's architectural style.
Inspired to Start Your Exterior Home Remodel?
This project gives you ideas on what's possible in siding and window replacement. As a full-service home services company with decades of experience. We help people realize their dreams for their home's exterior. Let us do the same for you! Get started by contacting us at 704-400-4710.