The exterior of your home is the first impression. It's not always easy to keep exteriors maintained. Much of that has to do with the material because most traditional ones have their weaknesses. To refresh this South Charlotte home, we installed the best product on the market for longevity, durability, and beauty, Hardie® Plank siding.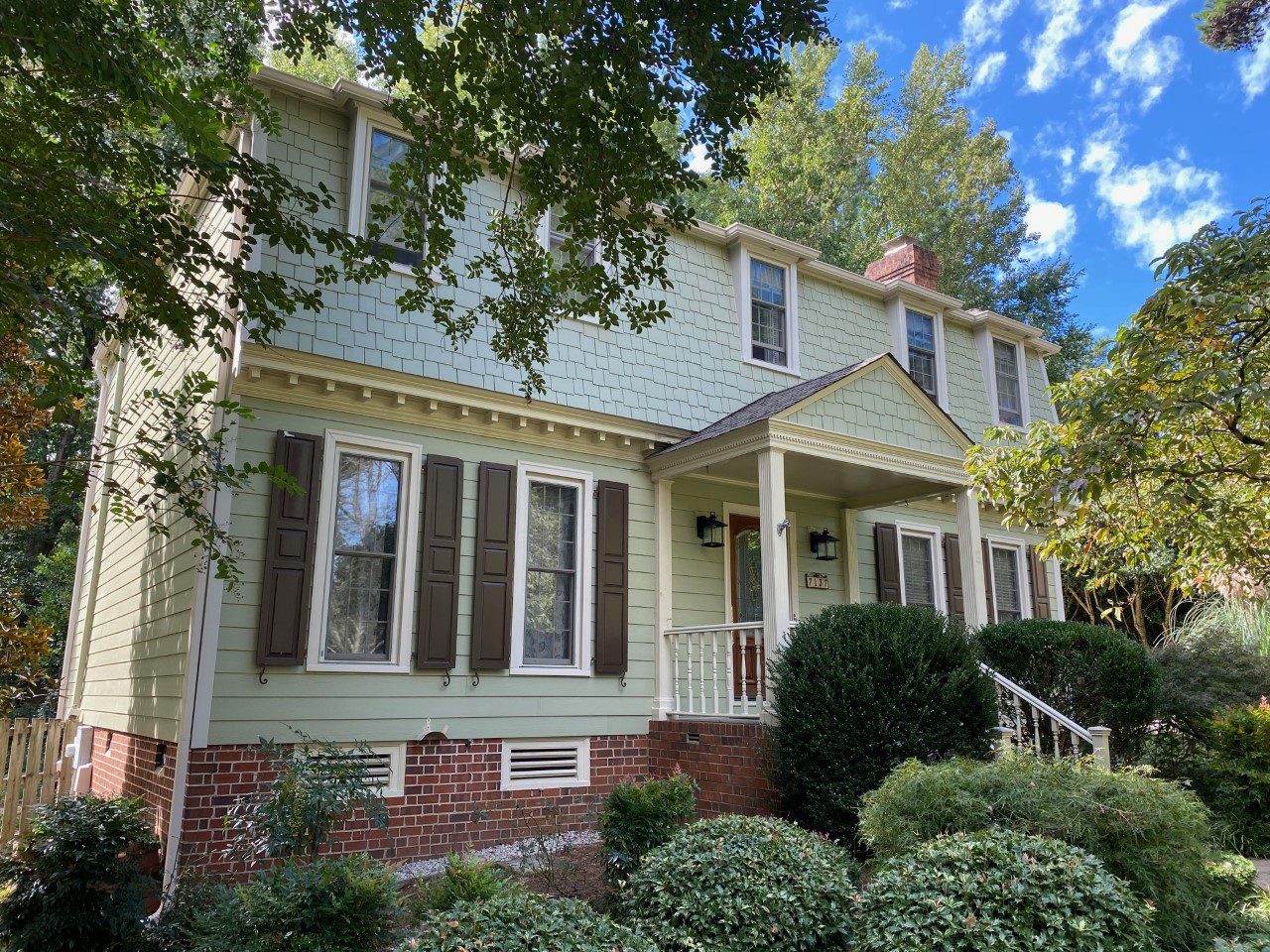 Old Siding's Out, New Siding Changes Everything
As with most projects, we began by removing the old siding from the house as well as the shake singles from the Mansard roof area of the home. After removal, we made a few patches, as you can see in the photos. When installing any kind of new siding, it's always critical to assess the substrate and make any repairs. You have to start with a good foundation to ensure a good install.
Once the structure was ready for its new look, our team installed Hardie® Plank lap siding in the front, sides, back, and the attached garage. This fiber cement siding is almost indestructible and is no match for the elements. It's moisture-, fire-, and insect-resistant. It won't warp, crack, or rot. It's thoroughly durable and gives you the look of real wood siding without the maintenance.
For this project, we primed and painted the siding as well. The color pops against the brick base and the cream accents around the windows, door, railings, and front porch.
Shake Siding for the Mansard Adds Vivid Details
To provide some distinction from the first and second floors on the front of the house, we installed Hardie® Shingle Staggered Edge Panel siding. Again, it offers the appearance of wood shake shingle siding but provides all the benefits of all Hardie® materials.
The staggered placement creates visual interest yet is the same color as the lap siding, so it's consistent. We added to the shingles to the dormer above the front entryway as well.
Exterior Transformations Are Easier Than You Think
As you can see, this South Charlotte home had an amazing transformation. Your home can, too, and it's much easier than you think. When working with Belk Builders, we provide you with our expert opinions and recommendations that ensure your home's exterior is both stunning and durable.
Contact us today to talk about your home exterior remodel.