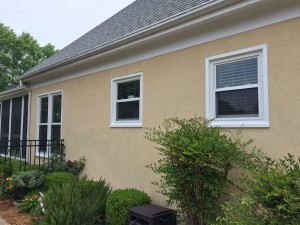 There's no place like home…but unfortunately, time and the elements can be especially hard on the exterior of your home. Maintaining a home typically includes a good spring cleaning each year, and as part of that, you should give your home an exterior perusal as well. During this visual inspection, check for weathering and other damage by looking for loose or damaged siding, chipping paint, loose or damaged roofing, and functionally challenged or failing windows. These are the main areas in which established homes begin to show wear first.
If you find that your home needs a little TLC, Belk Builders is your premier exterior contractor in Charlotte and the surrounding areas. As one of the leading upscale home exterior contractors in the Queen City, it has been our experience that if you take the time for a little preventative care now, you can absolutely prevent the need for emergency repairs later on. We do all types of work for new constructions, newer homes, mid-aged homes, older homes and even historic homes throughout the Charlotte area.
South Charlotte is home to some of the most beautiful and historically established communities. These include Piper Glen, Providence Plantation and Providence County Club which are filled with upscale residences that are timeless in their style but are at an age where windows and/or roofs need replacing and even in some cases, the siding needs replacing (with many homeowners choosing to switch from wood to Hardie® Plank for maintenance and longevity reasons). Belk Builders has extensive experience, specializes in upscale home exterior improvements and repairs including windows, siding, doors and roofing and fully understands the importance of maintaining the original and classic beauty of these architectural gems.
One of our most recent projects was a complete window replacement job for homeowners in Providence Country Club. To improve the performance and energy-efficiency of their windows, we installed new Simonton replacement windows throughout the home. Replacement windows provide a list of benefits, which include:
Safety and Security- New windows are smoother to operate while opening or closing and include double locks and stronger glass for high impact resistance.
Curb Appeal- Changing out the outdated or unattractive windows with new replacement windows will help give your home an updated look and improve the curb appeal.
Reduced Interior Fading – Low-E windows have window panes coated in microscopic layers of metallic oxides, which are invisible to the naked eye, allow in as much natural light as possible and protect your home from unwanted UV rays.
Not to mention … new replacement windows deliver increased total value of your home, greater noise control, and are easier to use and clean. You get all of these features wrapped up in a low maintenance product that doesn't have to be painted.
In addition to replacing the windows, the homeowners decided to exchange their cumbersome French door into their kitchen from the screened porch with a new, space-saving sliding glass door. They couldn't be more ecstatic about the way the door really opened up the space and are thrilled with how the new windows seamlessly blended into the design of their home, as if original to the structure.  As you can see in these before and after photos, they have a lot to be happy about!
Giving your home an exterior facelift is an investment worth making, especially if your home is the place where your family has made and plans to continue making memories for years to come. Updating or even installing the finishing work for the three vital external structural elements of your home (windows, siding and roofing) is the key to reviving your home's exterior. Your options are almost limitless with the vast array of color and material selections or combinations from any one of the premium line of exterior products we offer.
Our attention to detail and commitment to true craftsmanship are what makes Belk Builders the right choice for exterior renovation projects for Charlotte's upscale homes. Fully licensed and insured, we employ our own carefully selected team specialized in each specific field of renovation, giving you the added peace of mind in knowing your job will be completed right the first time by a local, Charlotte family owned business.
We are here to help you revive your home's exterior to make it like new, but better and proudly offer quality financing through Synchrony Financial. Contact us at (704) 400-4710 or visit our website today to learn more, or schedule a free estimate, you'll be glad you did!
Siding, Window Replacement, Roofing & More!