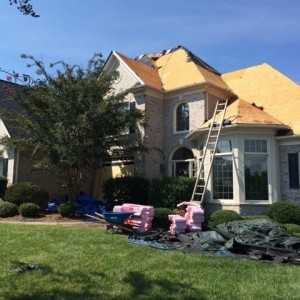 Television makes all types of projects seem so simple and easy…from cooking to redecorating, all the way up to a vast array of home improvement projects. While there are literally hundreds of undertakings that are perfectly suited for the do-it-yourself route, there are just as many which are better left to the professionals. For example, you'd hire a professional baker for a multi-tier wedding cake, but bake a birthday cake yourself; you'd paint a single bedroom but bring in a team of painters with scaffolding to paint your two-story entry way; and you'd hire a licensed electrician to rewire your home but replace a light fixture yourself.
The same can be said for exterior home projects as well. Repainting the front door, installing flood lights or replacing the door knobs and locks are all excellent homeowner projects while roofing, window or siding replacement are most definitely jobs for professionals with specific skill sets. We have been called in on several partially started DIY siding replacement jobs, where the homeowner attempted, but quickly realized they should have called a professional from the start. There's a reason building and construction trades are considered skilled, professional jobs. They require some demolition, a good understanding of how various structural elements fit together, and accurate measurement and mathematic skills.
As we mentioned earlier, TV makes a lot of the things look easier, but that's mostly because there's a lot that goes on behind the scenes, between takes. Attempting to take on a task which is better suited for a professional can often lead to serious frustration for homeowners, and at worst, serious injury. Although there is no organization which tracks do-it-yourself injuries, according to compiled information from several website and healthcare surveys, more than one quarter of DIY projects result in an injury. In addition to personal injury risks, a home improvement project done wrong can be expensive to fix.
Here are three reasons not all home improvement projects should be DIY:
Depth of demolition and building knowledge – How hard can it be to remove the old siding, right? It's more than just prying up the old nails and ripping away the old materials. How educated are you in the proper methods and required processes for the removal and disposal of the old siding and the installation of the new? Do you have all of the correct tools and are you experienced in using them? How much surface preparation is needed and what type of substrate is required regarding insulation and moisture abatement? What if you encounter rot or damage once the old material is removed? A reputable professional builder has the depth of knowledge to handle each of these items and any possible issues that may arise as well as all the right tools.
Accurate measurements for time and materials – It can be completed in just one weekend according the online video, right? As for materials, the website recommendations for quantities to order are based upon

your

measurements. Are your measurements accurate enough to include extra material for any incorrect cuts or defective material without over compensating? How many times have you replaced the siding on your home before? Accurate time calculations and building measurements are the backbone of a professional builder's business.
Creating a realistic budget – No matter if the job is large or small you need a realistic budget. It's tempting to guesstimate and think you'll keep track of your spending as you go. But what happens when you are halfway through the work and realize you are already way in over your head financially? This is one of the most common issues a homeowner can face when trying DIY, and often leads to throwing in the towel on a project that is only halfway complete. If you've blown your budget, you'll have to save up before you can call a professional to do it. An experienced professional contractor has the knowledge needed to create a real budget to cover the entire job, even the aspects often forgotten, such as disposal fees.
One of our most recent projects involved Belk Builders taking the reins on a do-it-yourself Hardie® Plank Siding installation project in South Charlotte. The homeowner contacted us to make sure the installation was completed properly, and safely. Here is what the homeowner had to say about his project once completed:
"Arrived early every day, stayed into early evening & cleaned up every day. Very professional, organized, neat & courteous. When they left the job was finished to my satisfaction."
As the Queen City's premier choice for replacement windows, siding or roofing and a qualified Hardie® Plank installation company, we are your contractor of choice. When you choose Belk Builders for any of your exterior home projects, you can be confident that you're hiring a fully licensed and insured local, Charlotte family owned business which employs our own carefully selected, expertly trained team specialized in each specific field of renovation. This gives you the added peace of mind in knowing your job will receive an expert level of attention to detail by a company which takes pride in its work.
You don't have to take chances when home improvement projects need to be done. We are here to help you revive your home's exterior to its true potential and proudly offer quality financing through Synchrony Financial. Contact Belk Builders at (704) 400-4710 or visit our website today to learn more, or schedule a free estimate.