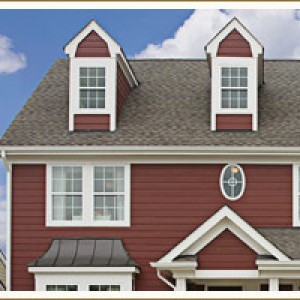 August is National Curb Appeal Month, and during the upcoming celebration we urge homeowners to focus on improving their home's exterior. By investing in key elements of your home's exterior you can make your home more beautiful, more energy-efficient and even more marketable in the future.
Your home's exterior can speak volumes about what lies beyond the front door including the homeowner's degree in pride of ownership. It is also a direct reflection of the way you "keep", or maintain your home. Proper maintenance of your home's exterior usually means the same is being carried out on the interior of the home. This equals out to a tremendous amount of benefit for the homeowner including a home that will hold its resale value and a home you can take pride in coming home to each day!
In today's market, 61% of those either in the market or considering exterior renovations say that the biggest attention grabber is the exterior of the home! Most homeowners know that curb appeal is important in the way you and others view your property. In addition, a home with curb appeal will help when it's time to sell your house. When we look at our homes the way a prospective buyer will, what they see at eye level is the front door, the front of the house which is predominately your home's roof, siding and windows, the garage door and then your landscape. A great place to begin adding curb appeal is by replacing your roof and/or your home's tired and aged siding with upscale vinyl siding or Hardie® Plank siding. In addition, replacing your windows is also a great way to enhance the exterior of your home and cut energy costs as well.
If your roofing has had a rough season, or you simply want to change things up, take advantage of the warmer months, which are an ideal time for big home improvements. If you don't know where to start with your home's exterior in mind, think top to bottom: Take a "top down" approach to adding eye-pleasing color palettes to your home's exterior. Start with the roof color, then work your way down the house to consider the siding, window frames, front entry door and even trim. Roofing is an element of your home that will be with you a long time, so choosing a color with longevity is key. The most timeless roofing colors used on American homes include black, gray and brown. Black, in particular, is always a safe bet. Black is classic and is a color that denotes power and authority which will never fall out of fashion. From the little black dress to the luxury black car to a crisp black tuxedo, there is an upscale feeling about black that crosses product and category boundaries.
When aesthetics are a factor, color always comes into play: 59% of homeowners place a great deal of emphasis on color when replacing major exterior home features such as siding and windows. Enhancing curb appeal is all about creating top down color by working from the roof down through the different elements of the exterior of your home such as siding, windows, trim and doors. Then, by adding "pops" of color, such as chocolate-brown vinyl window frames instead of traditional white, which are available from Simonton Windows, along with many of the other upscale windows we carry, you can add loads of character to your home's exterior. In addition,Hardie® Plank siding comes in a myriad of colors to suit any taste and style. Don't feel locked into drab or standard colors on your home's exterior. With the right information, you can confidently give your home curb appeal this home improvement season.
Belk Builders is the Charlotte areas premier installer for upscale roofing, vinyl siding and window replacement. We are also the area's best source for Hardie® Plank siding replacement too! If you are looking for the right company for your home's exterior upgrades contact Belk Builders at (704) 400-4710 or info@belkcustombuilders.com to schedule a free evaluation today! Financing is also available through GE Capital Finance.
Siding, Window Replacement, Roofing & More!