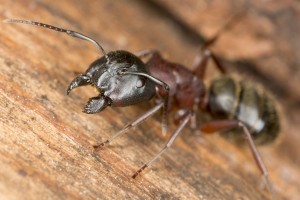 Spring is officially here. With all the beauty that comes along with the arrival of spring, let us not forget about the insects that come along with the season. As a professional exterior home improvement company, I have seen more than my fair share of home invasions from insects. If your home's siding or windows are aging or in a state of disrepair, insects such as carpenter bees, ants and even wasps can take up residence within your home's exterior and cause big problems.
Case Study: Pawtuckett area home and detached garage with damage from moisture and carpenter ants:
One of our most recent siding and window replacement projects took us to the Pawtuckett neighborhood of Charlotte, NC. The homeowner's contacted Belk Builders to request a consultation because they were considering a siding and window replacement. One we began tearing off the existing siding to install the new siding, our team noticed that there was significant damage hidden under the siding of the detached garage as a result of moisture and carpenter ants.
From the outside, without further investigation, the problem was not noticeable. We quickly addressed the problem and along with the window and siding replacement we were able to replace a 2×4 during the project to fix the damage. Had this problem went on unattended, it would have entailed much more corrective amendments to fix the issue.
Carpenter ants generally strike areas that are already damaged, such as areas that have taken on moisture. Damage and gaps caused by moisture serve as an invitation for carpenter ants to burrow and nest.  Damage from carpenter ants is limited by the size of their colony, and the size of their colony is limited by their food supply and the available moisture supply.
This project consisted of replacing the siding on the home and detached garage, and installing new windows on the detached garage. We used high-quality Mastic insulated vinyl siding by Ply Gem on both structures and high-quality Simonton windows were used on the detached garage. In addition to these improvements we also installed a new insulated door for the homeowner at the rear of the home and installed an overhang over the side door using braces to wick the rain away and allow for dry entry into the home via the side door.
To help deter carpenter ants looking for potential nesting sites and the subsequent further damage they can cause, you should inspect the exterior of your home regularly and make sure that all wood surfaces are protected with something impenetrable, like upscale vinyl siding or Hardie® Plank fiber cement siding. It is also important to address any moisture problems immediately.
We have been protecting Charlotte area homes from nuisance insects for more than 25 years. We are the Charlotte area's premier Hardie® Plank siding installer and we specialize in providing the highest quality vinyl siding and trim, premium roofing replacement and window replacement to our customers, defending your home's exterior from the harm insects can cause. Contact us at (704) 400-4710 or www.belkbuilders.com. You can also visit our website today to learn more, or schedule a free estimate.
Siding, Window Replacement, Roofing & More!