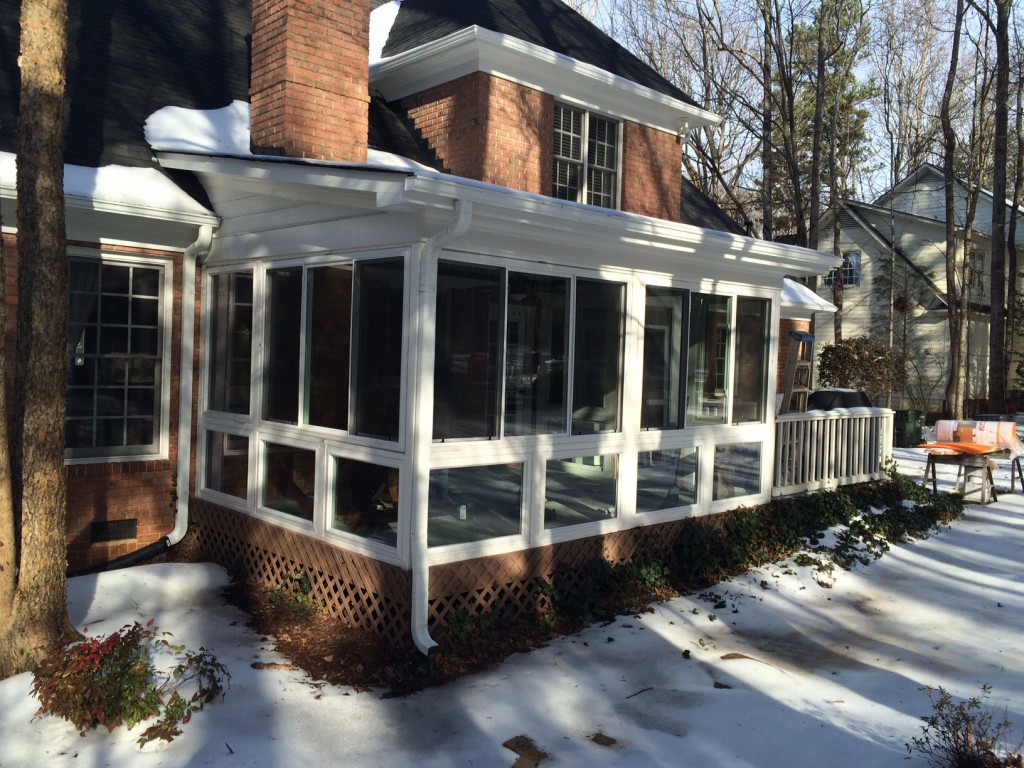 Savvy homeowners already know that Belk Builders is the Charlotte area's trusted source for quality siding replacement, including Hardie® Plank , window replacement and roof replacement. However, we are also a top-quality resource for many additional exterior remodeling and upgrade projects. Our expertise goes beyond the surface as issues with the condition of what is underlying to complete a project that is structurally sound or requests from the homeowner may encompass more than your typical siding, window or roofing replacement. We have the knowledge, training and experience to complete almost anything that comes our way. A recent project in the Wynfield neighborhood in Huntersville, NC, stands as proof of our diverse expertise in all things exterior.
This particular project consisted of transforming an existing screened porch into a multi-functional sunroom that extends the livability and time these homeowners can enjoy the great outdoors! We removed the existing screen panels and made sure the structural integrity of the porch could facilitate the addition of windows. We also installed a new entry door into the room and installed ceramic tile with a heated floor.
A sunroom or four-season room differs from a three-season room because a sunroom is considered to be a habitable, year round living space. Sunrooms and 4-season rooms are heated and/or cooled, insulated, and include appropriate electrical outlets. Foundation requirements are also more stringent for a 4-season room or sunroom than a 3-season room.
Upgrading an existing screened porch into a sunroom or 4-season room is a wonderful way to add value to your home. As is the case with any quality home remodeling project it is crucial that a qualified builder, like Belk Builders, will be able to answer if a porch conversion is possible with your particular space. We will consider the structural integrity of your existing space and retrofit window units appropriate for outdoor room use.
If you are considering an exterior home upgrade such as replacement siding, windows, roofing or even converting an existing space into a multi-functional asset to your home — contact Belk Builders. We are the Charlotte area's complete home exterior company that goes over all the available options and details of your project in detail. We offer all-inclusive options for your exterior project, or we can recommend the best time to take care of your finish details in stages to accommodate your budget and lifestyle needs. We also offer additional finishing services, such as custom vinyl board & batten trim replacement, shake siding and shutter installation…all which adds character and value to your home. If you are ready to learn the true potential of your home's exterior. You can reach us at (704) 400-4710 or via email at info@belkcustombuilders.com.
Siding, Window Replacement, Roofing & More!