Spring is all about shedding the past and blooming into something beautiful. That's an excellent analogy for our latest feature project. This South Charlotte two-story home previously had Masonite siding, referred to as hardboard siding. It has a history of being problematic, including multiple class-action lawsuits. We've replaced Masonite siding on many projects, and we're glad to share this project with you.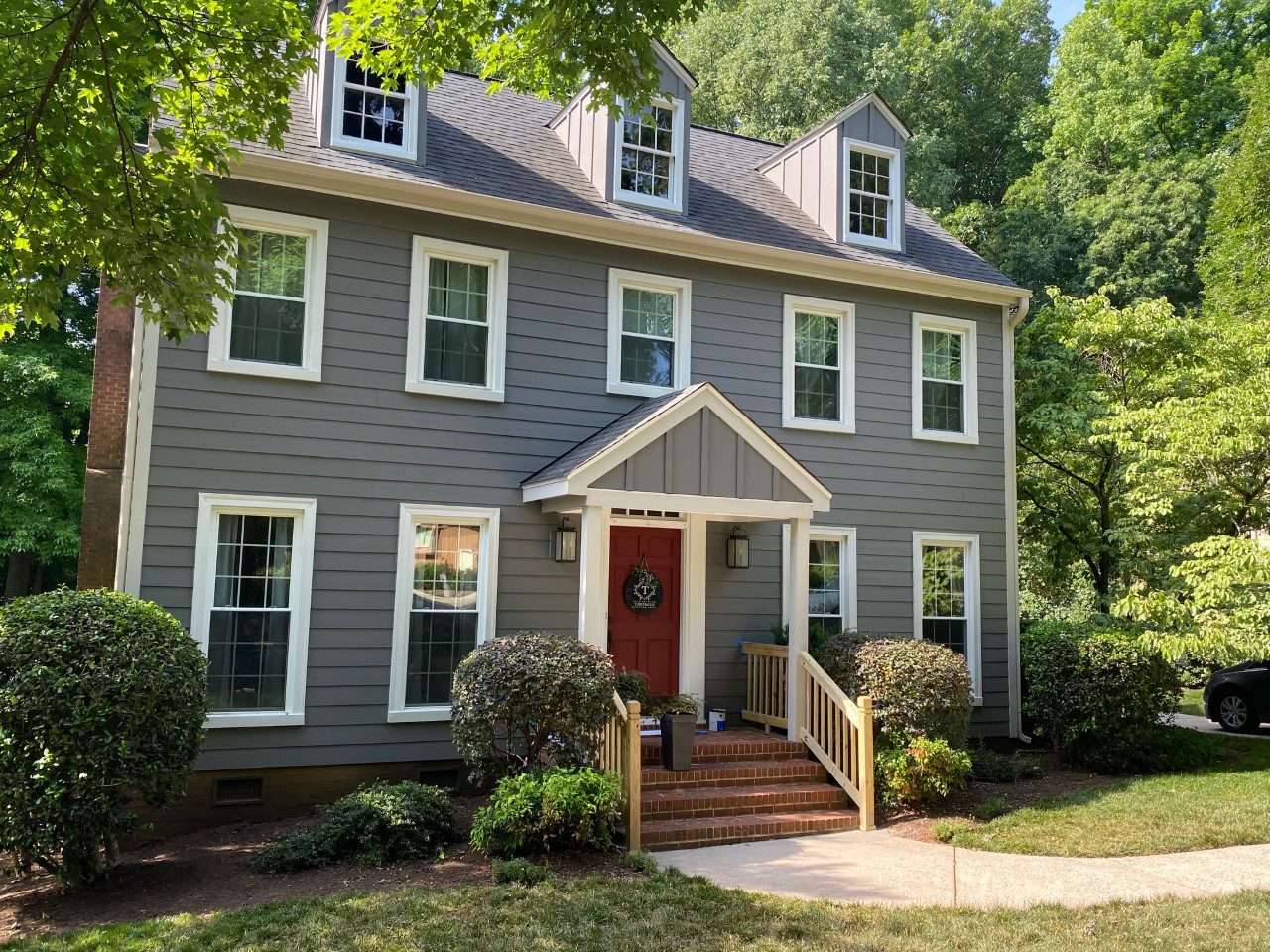 What's the Problem with Masonite Siding?
The initial conception of Masonite siding was that it would be a cost-effective alternative to other siding materials. It consists of wood chips and resin, and the company promoted it as low maintenance.
Unfortunately, the material did not offer long-term durability. Many homeowners experienced rotting, blistering, mold and mildew from water infiltration, insect damage, bowing, and discoloration. Its structural integrity gaps soon meant that many needed new siding.
To eliminate these problems for our homeowners and give them the aesthetics and functionality desired, we recommended Hardie® Plank siding.
Hardie® Plank Siding Delivers on Homeowner Desires
To begin this project, we removed all the old siding and made any repairs as necessary. Then we installed lap siding in a medium gray on all sides of the house. With Hardie® Plank siding, the homeowners get the best of both worlds. It's beautiful and boosts their curb appeal. The color won't fade because of a special baked-on process. It also requires no maintenance to reman pristine and mimics the look of natural wood.
Additionally, they won't have to worry about the issues associated with their old siding. Hardie® products are made from cement fiber, ensuring durability. They won't buckle, rot, rust, or contract. They are also moisture, fire, and insect resistant. It's one of the highest quality materials in construction, in general, and we're always proud to install it because we know it will last. The property also included a detached garage, which received Hardie® Plank siding in a board and batten design. You can see that same pattern on the overhead eave above the front door and the dormers. It offers a nice contrast to the horizontal siding on the rest of the house. To complete the look, we also put in new Hardie® soffits.
Finishing Work Brings the Project Together
The project also involved finishing work. We added new Cobblestone trim and mounted new gutters. The homeowners previously had new windows installed. Unfortunately, that company did not install the window casings properly. We were able to replace those to ensure the best performance from their windows.
Is Your Siding Failing? If So It's Time for an Upgrade
Failing siding is not something you want to ignore. Sure, it can be an eyesore, but it has the potential to cause a host of structural issues. That's a significant risk that can be costly. Whether you have Masonite siding or any other material, you should act fast before it becomes an emergency. We're happy to assess the current siding and work with you to find the best solution. Contact us today at 704-400-4710.