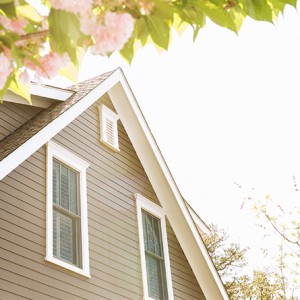 One of our most recent projects was for a Charlotte homeowner who contacted us to replace the existing vinyl siding as it was aged and no longer performing at its best. After doing much research, the client settled on because of the sheer beauty and durability of this upscale product. Feeling pride in the look of your home and confidence in the materials in which it is shielded from the elements is the end result Belk Builders strives to provide each of our clients.
We proudly offer James Hardie® products featuring ColorPlus® Technology and are the Queen City's qualified installation company for a full array of James Hardie® products. Known for its reliability, this premium siding eliminates any anxiety you may feel about how your siding is performing. That's why it is the most popular brand of siding in America and found on over 5.5 million homes. With its strength, beauty, durability and full range of regionally based colors, it enhances and protects homes in all kinds of climates.
Beginning this project required the removal of all the existing siding in order to properly prepare the surface of the home's exterior and install the Hardie® Weather Barrier and flash. It was during this preparatory stage when we discovered the extensive damage to the entire band sill around the home. The most common causes of this much damage are a lack of a proper weather barrier and overgrown bushes and landscaping butted up against your home's foundation which hold moisture against the area over extended periods of time. As you can see from the pictures below, the degradation and rot was beyond repair, thus requiring its complete replacement before we could install the house wrap.
Hardie® Weather Barrier and flashing provides a balance of water resistance and breathability, reducing water intrusion while allowing water vapor from inside your home to escape. This keeps the area within your walls and around your doors and windows dry as it is composed of high-performance materials which help prevent mildew and reduces energy loss.
We replaced the home's existing siding with premium Hardie® Plank fiber cement siding. It resists rotting, warping, cracking, hail, and high winds up to 150 mph. It is noncombustible and even approved for fire-rated construction and also five times thicker than vinyl delivering more durability and protection for your home!  In addition, the ColorPlus Technology factory applied, baked on finish provides up to 30% better fade resistance than competitive products. Made using the highest quality raw materials utilizing the James Hardie® proprietary manufacturing process, revolutionary finish technology and innovative color process, it combines the advanced fiber cement formulation with a factory-applied, baked-on finish.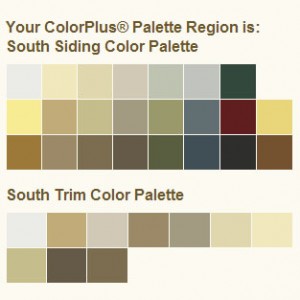 The James Hardie® ColorPlus® Technology siding color palette was created by color professionals who handpicked the custom siding colors and siding color combinations for each area of the country. Selections were based on regional housing styles, environmental surroundings and extensive research and development. The color palette for siding in the Southern region includes, but is not limited to: neutrals, greens, blues, browns and even a beautiful deep red.
Overall Hardie® Plank offers maximum durability, resistance to prolonged exposure to freezing climate and moisture contact as well as a long-lasting low-maintenance finish. The addition of its 15-year limited warranty that covers both paint and labor and protects against peeling, cracking, and chipping further confirms its well-earned reputation as the best choice in siding for homeowners.
Just as important as your choice of a premium high quality product as your home's defense against the elements is your selection of a professional and highly skilled reputable builder to install your siding. With Belk Builders you can rest assured that you are hiring not only the Charlotte area's premier home exterior company, but its leading qualified Hardie® Plank installation contractor. Belk Builders has over 30 years of experience in upscale, quality roofing, window and siding replacement. When you consider Belk Builders for your exterior home projects, you can be confident that you are dealing with a fully licensed, locally owned, reputable company that stands behind the integrity of our products and workmanship. Heavily accredited by many entities, proving our commitment to excellence, Belk Builders is a respected member of Angie's List, an accredited member of the BBB of the Southern Piedmont and members of the Greater Charlotte Chapter of NARI (National Association of the Remodeling Industry.) We can meet all your needs and more.
Your satisfaction is our #1 goal! Being a local, family owned business, our roots in the Queen City run deep and we pride ourselves in taking care of our community. If you are ready to learn the true potential of your home's exterior, contact us at (704) 400-4710 or visit our website today to learn more, or schedule a free estimate!
"Siding, Window Replacement, Roofing & More!"