Have you received your invitation?
Mother Nature is hosting an event to celebrate the change of her home's exterior color palette which you shouldn't miss. Her autumn event is by far the most beautiful, showcasing her vast array of colors! With the color changes in nature during the arrival of fall, why not change your home's exterior color as well. If you are in the market to update or revitalize the exterior of your home, Belk Builders proudly offers James Hardie® products featuring ColorPlus® Technology. The James Hardie® ColorPlus® color palette provides a wide range of options, inspired by Mother Nature, to help you fall in love with your home all over again.
Why choose James Hardie® products to enhance or rejuvenate the exterior of your home?  Found on over 5.5 million homes, HardiePlank siding is the most popular brand of siding in America. With its strength, beauty, durability and full range of regionally based colors, Hardie® Plank siding with ColorPlus® Technology enhances and protects homes in all kinds of climates. Made using the highest quality raw materials utilizing the James Hardie® proprietary manufacturing process, revolutionary finish technology and innovative color process, it combines the advanced fiber cement formulation with a factory-applied, baked-on finish.
The James Hardie® ColorPlus® Technology siding color palette was created by color professionals who handpicked the custom siding colors and siding color combinations for each area of the country. Selections were based on regional housing styles, environmental surroundings and extensive research and development. The color palette for siding in the Southern region includes, but is not limited to: neutrals, greens, blues, browns and even a beautiful deep red and have names like; Arctic White, Sail Cloth, Navajo Beige, Cobble Stone, Soft Green, Parkside Pine, Mountain Sage, Boothbay Blue, Evening Blue, Autumn Tan, Woodstock Brown, Timber Bark and Countrylane Red…to name a few. (Please reference the chart below for available trim colors.)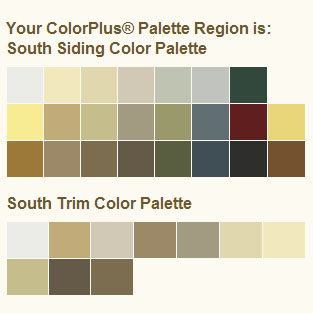 What makes ColorPlus Technology so unique? This proprietary process involves applying consistent, multiple coats of paint that was created especially for the demands climate places on a home's exterior siding. The end result is a beautiful consistent color finish that lasts up to 2 times longer than field-applied paint. A baked-on coating offers maximum durability, resistance to prolonged exposure to freezing climate and moisture contact as well as a long-lasting low-maintenance finish.
Additionally:
• Specially formulated paint stands up to high UV levels, offering up to 30% more fade resistance.
• It endures over 41 quality checks to ensure the quality of the substrate, the texture and the finish. No other manufacturer can match these demanding quality standards.
• The ColorPlus® Technology finish comes with a 15-year limited warranty that covers both paint and labor and protects against peeling, cracking, and chipping.
Why should you choose Belk Builders for your exterior siding project? As a qualified Hardie® Plank installation company Belk Builders has over 30 years of experience in upscale, quality roofing, window and siding replacement. This includes being the Charlotte area's premiere choice for Hardie® Plank replacement siding. When you consider Belk Builders for your exterior home projects, rest assured you are dealing with a fully licensed, locally owned, reputable company that stands behind the integrity of our products and workmanship. We are also heavily accredited by many entities, proving our commitment to excellence. Belk Builders is a respected member of Angie's List, an accredited member of the BBB of the Southern Piedmont and members of the Greater Charlotte Chapter of NARI (National Association of the Remodeling Industry.) Belk Builders can meet all your needs and more.
Your satisfaction is our #1 goal!
Your home is a reflection of your taste, style and personality. Choosing a siding color for your home can be a tough decision. Our color pro has handpicked custom color combinations to help you find the siding colors that work best for both the style of your home and your own personal taste. For advice regarding siding color coordination and combinations, contact Belk Builders today. Call (704) 400-4710 or email us at info@belkcustombuilders.com to schedule a schedule a free estimate.