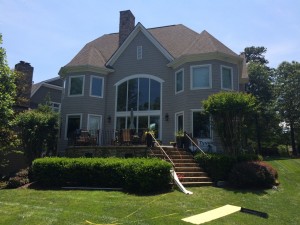 Mold. The very word can invoke terror in the heart of a homeowner. Structurally speaking, mold can weaken your walls, ceilings and floor and if left untreated, it can make you and your family sick, and inevitably make your home look and even smell disgusting. It was a consistent moldy smell in their home which led homeowners from the Cornelius, NC, community, The Peninsula, to contact Belk Builders.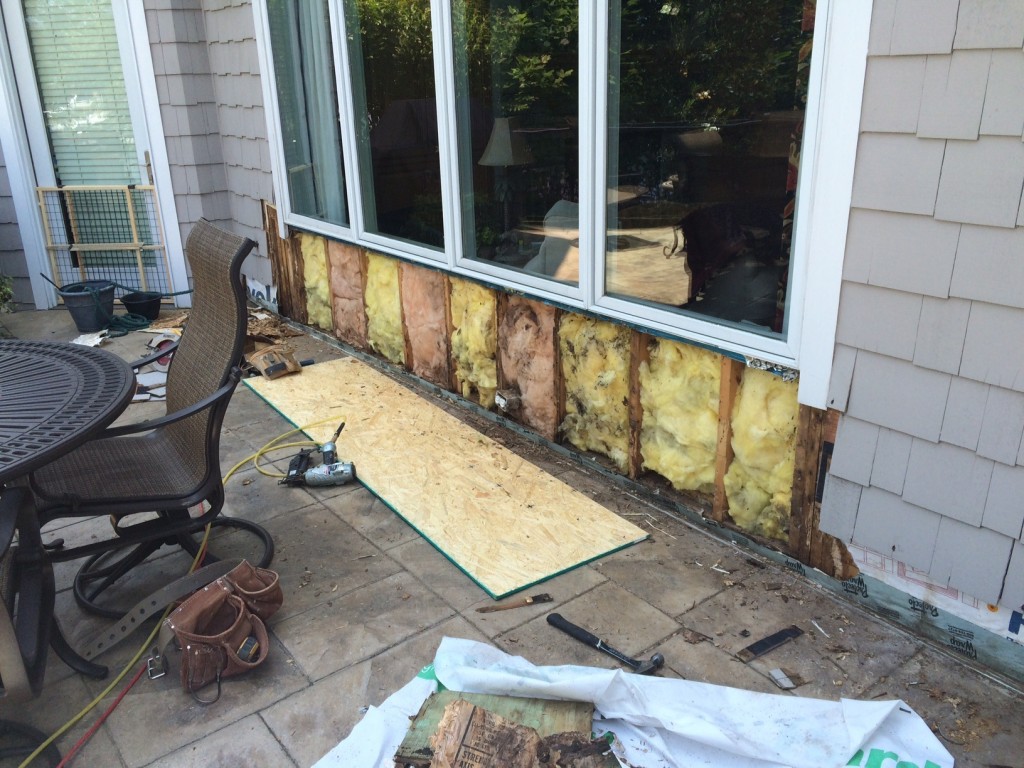 When we receive calls like this, we schedule our free onsite home inspection to first evaluate the situation, paying special attention to the homeowners' main areas of concern, so we can then discuss our findings and recommendations for repairs with them. During this inspection in Cornelius, NC, we quickly discovered that the wooden shake siding on the home was not installed properly on the exterior nor around the homes' windows, allowing mold to grow. To compound their mold issue, this particular brand of shake siding was made from Masonite board, a now known culprit for moisture retention, one of the leading causes of mold.
Keep in mind, not all mold is as dangerous as the "black mold" or Stachybotrys chartarum that we see plastered throughout the media. According to the Centers for Disease Control and Prevention (CDC), certain molds are toxigenic, meaning they can produce toxins (specifically mycotoxins), so the molds themselves are not toxic, or poisonous, but can still cause health issues. Ultimately, it's best to keep mold away from your home.
After showing the homeowners the mold which had taken up residence under their siding and around their windows (see photo), we discussed their repair options and to correct the issues, here is what we did….
We tore out all the areas that were damaged and replaced the molded Masonite siding with new wooden shake siding and the existing, rotted windows in the kitchen with  new Pella windows. Since the best way to inhibit mold growth is to control moisture, we used MiraTEC® Treated Exterior Composite trim around all the windows and doors as this is a better option to repel moisture instead of drawing it into this critical area. In addition, Miratec combines the striking allure of cedar with the durability of an engineered product and is backed by a 50-year limited warranty. With these repairs and superior products, we were able to return their home to the home they originally fell in love with…something Belk Builders is known for!
We are the Charlotte areas' complete home exterior company and are ready to handle all of your upscale roofing, siding and replacement window needs. We have over 25 years' experience in helping homeowners in the Queen City maintain and improve their home's facade with only the highest quality exterior products on the market.  In addition to being a respected member of Angie's List, we are also an accredited member of the BBB of the Southern Piedmont and are members of the Greater Charlotte Chapter of NARI (National Association of the Remodeling Industry.)
As a homeowner, it's up to you how you choose to preserve your residence…but keep in mind, a poorly maintained home loses value, runs inefficiently inflating utility costs, and requires more money for upkeep as well as repair costs. However, your routinely inspected, well maintained and updated home will only increase in value while it protects you and your family as time passes.
If you are ready to learn how Belk Builders can help you, contact us at (704) 400-4710 or visit our website today to learn more, or schedule a free estimate!
Siding, Window Replacement, Roofing & More!