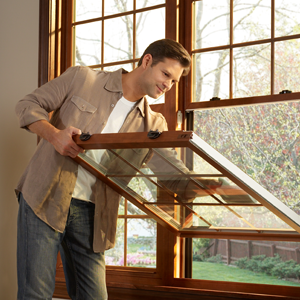 Spring is actually just a few days away and the weather here in the Queen City over the last several days has already been spring and summer like…lots of sun, temps in the 70s and lovely breezes. Of course spring cleaning and preparations are the highlights of almost everyone's "To Do" lists, and cleaning the windows is rarely anyone's favorite, unless they have windows with sashes which tilt inward. As the most recent first place winner in the double hung, vinyl replacement window category of Consumer Reports' product research, Simonton windows feature tilt in sashes which will definitely make your least favorite spring cleaning task, your easiest. And that's just one of the many reasons Simonton is #1 for replacement windows by homeowners all across America and should be your choice too!
Belk Builders is the Charlotte area's premier upscale window replacement specialists, and Simonton windows are consistently our most requested product line. Appealing to homeowners with a multitude of tastes and needs, offering a wide variety of windows in different shapes and sizes, all of which tout durability and ease of use. With nearly 70 years of experience in building windows, Simonton has successfully perfected window craftsmanship. Their aesthetically pleasing, innovative designs are the utmost in energy-efficiency, value, and durability.
In addition to their easy cleaning feature (which, by the way, even if you hire a professional  service for this chore, will cost less because they tilt-in and the grids are inside the glass panes) and increased energy-efficiency, Simonton vinyl replacement windows increase your home's curb appeal, noise control and ultimate value. Not to mention they are easier to open and close, reduce fading of interiors and of course are low maintenance! But did you know that Simonton windows also increase the safety and security of your home? They do it with double locks, stronger glass for high impact resistance and this fantastic feature:
Ventilation locks – This little "guard" which you flip-up, allows you to have your windows open during milder weather without compromising your home's security. This small, yet exceptionally effective device allows you to leave your windows open so you can flush out the stagnant winter air that has been trapped in your home for the past several months and let fresh air circulate throughout the house…thus checking off yet another item on your spring cleaning list! These ventilation locks won't allow the windows to be opened up any further from the outside; in essence, you can fall asleep on a cool spring evening, or even run a quick errand away from home, with the window partially open and without worrying about someone attempting to gain access through your open window!
Here at Belk Builders, we are proud to offer Simonton Windows with all of these incredible features. Choosing Belk Builders for your window replacement project, guarantees you a fully licensed and insured company that employs a carefully selected, expertly trained team specialized in each specific field of remodeling. Our attention to detail in all of our window replacement, siding replacement and roofing projects is unsurpassed in quality and craftsmanship.
If you looking for the right company for your replacement and window upgrade needs contact Belk Builders, Charlotte's premier complete home exterior company at (704) 400-4710 or info@belkcustombuilders.com to schedule a free evaluation today!