Have you ever noticed many times making improvements and upgrades to your home and landscape is contagious? It is very common for one resident to enhance their landscape, repaint, or even replace their siding and windows, and the neighbors will follow suit. This is sometimes referred to as the "Domino Effect". Just like the game of dominoes, the evolution of improving the appearance of your entire neighborhood can begin with you.
The "Domino Effect" is a good thing. Exterior home improvements will benefit the homeowner on a myriad of levels as well as the appearance of the neighborhood itself. Homes will be more energy-efficient, exteriors will require less maintenance for longer periods of time, and above all, homes will be more aesthetically appealing and have a better resale value after undergoing  home improvements. The whole concept is a win/win situation for the residents as they become more aware of the benefits.
Belk Builders recently experienced the power of the "Domino Effect" in action. After completing a window replacement installation for some wonderful homeowners in the Matthews/South Charlotte area, we were soon contacted by a neighbor via their referral. In fact, they were so impressed with the quality of work provided they too decided to move ahead with their window replacement.
Both neighbors chose to use Simonton Windows on their homes. One of which chose a double-hung style with 1″ contoured grid between the glass. The 1″ contoured grid is evident of a higher-end window with a more upscale look.  The second neighbor also chose double-hung Simonton Windows but since they were concerned about keeping the safety of the children in the home intact, they opted for a special-order tempered glass feature.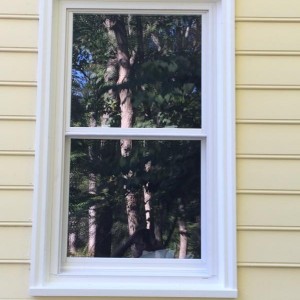 According to Consumer Reports, whom just published the results of their 2014 product research, review and testing. Simonton Windows came in as #1 for vinyl replacement windows (double hung). Simonton is one of the industry leaders in replacement windows because of their high Rvalue, low maintenance and quality construction.
Both customers are elated with their new window installation! One of which even called me via phone to comment on the difference the installation has made since cooler temperatures have arrived; they commented the rooms are warmer and the difference in palpable.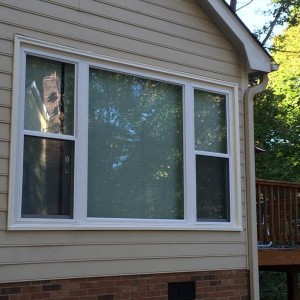 Here at Belk Builders, we are proud to offerSimonton Windows! Choosing Belk Builders for your window replacement project, guarantees you a fully licensed andinsured company that employs a carefully selected, expertly trained team specialized in each specific field of remodeling because your happiness and satisfaction is our #1 goal!
If you looking for the right company for your replacement and window upgrade needs contact Belk Builders at (704) 400-4710 or info@belkcustombuilders.com to schedule a free evaluation today! Belk Builders is also proud to offer financing through Stynchrony Financial.
Siding, Window Replacement, Roofing & More!