I am really glad my house isn't made out of straw or sticks, because here in the Charlotte area yesterday it felt like Mother Nature was pretending to be the Big Bad Wolf! With her 22+ mph wind gusts, she huffed and she puffed, but thank goodness she didn't blow the house in! Are you feeling the effects of wind gusts or the cold snap we had last week when standing close to your windows? Perhaps you've seen the flutter of a few curtain sheers in the living room or even worse, almost fainted when you opened your power bill. These may be signs that your existing windows are failing and are culprits of compromising your home's energy efficiency by letting outside air in and your costly climate controlled air out!
Today, more and more homeowners are "going green" in the energy efficient management and operation of their homes. Going green means implementing lifestyle changes which support a more eco-friendly way to live. Few home improvements do more for your home from a green perspective than installing new windows. Aging, or inferior windows can account for up to 25 percent of your home's heat loss in the winter, not to mention heat up your home like an oven in the summertime. In contrast, energy-efficient windows can drastically improve your home's energy efficiency in all seasons, as well as improve the aesthetics of your home, its resale value, and overall comfort. Windows are a great place to start for a homeowner's individual green initiative.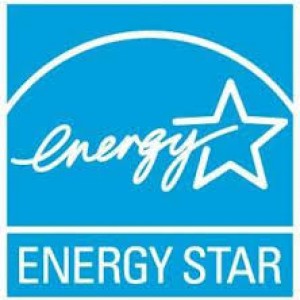 Thanks to advances in technology, today's ENERGY STAR qualified windows offer greener and greater savings than ever before. It's a smart investment to replace your drafty old windows with ENERGY STAR qualified windows because it lowers household energy bills by 7-15 percent. This reduces greenhouse gas emissions from power plants and shrinks your home's carbon footprint. The best type of window for your home depends on where you live. Energy Star-rated windows must meet requirements tailored for the U.S.'s four climate regions.
Look for the National Fenestration Rating Council (NFRC) logo on all Energy Star labels to compare these four important characteristics:
U-factor – the measurement of how well a window prevents heat from escaping. U-factor ratings generally fall between 0.15 and 1.20, and the lower the U-factor, the better a product is at keeping heat inside the building. It measures the insulation ability of the entire window, not just the glass. For cold climates, a low U-factor is the most important consideration.
Solar heat gain coefficient (SHGC) – the measurement of how much heat from sunlight is transmitted through the window. Most of the country benefits from lower SHGC throughout the year.
Visible Transmittance (VT) – the measurement of how much light passes through a product. VT is expressed as a number between 0 and 1. The higher the VT, the higher the potential for daylight allowance into the home.
Air Leakage – the measurement of how much outside air comes into a home or building through a product. Air leakage is an optional rating, and manufacturers can choose not to include it on their labels.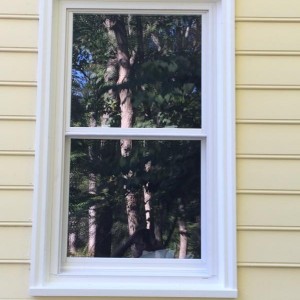 Above and beyond these energy efficiencies regulated by the NFRC, you should also consider how today's replacement windows provide the potential of increased; safety and security, curb appeal, noise control and overall value of your home. Replacing your aged or inferior windows will also benefit you with low maintenance windows that are easier to use and clean.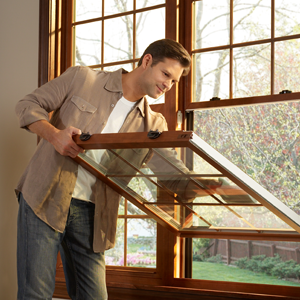 If you are tired of up to 25% of your heating and cooling energy costs floating out the window, now is the time to replace them with new ones that will add to your home's beauty, reduce your energy bills, increase your comfort and safety, and promote peace and quiet. Belk Builders offers many different types of window replacements to suit the needs and wants of our customers. We use only the best replacement windows on the market, all being top-quality insulated windows and all ENERGY STAR rated with names such as Andersen, Simonton, Pella , Alside and many more! Each style is customizable with several choices of arch styles, shapes, colors and energy-efficient options.
Who's afraid of the Big Bad Wolf? Belk Builders isn't! Choosing us for your window replacement project, guarantees you a fully licensed and insured company that employs a carefully selected, expertly trained team specialized in each specific field of remodeling to keep all of his huffing and puffing from coming inside…or blowing your house down.
If you are looking for the right company for your replacement and window upgrade needs contact Belk Builders at (704) 400-4710 or info@belkcustombuilders.com to schedule a free evaluation today!