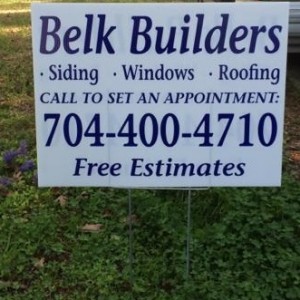 "The bitterness of poor quality remains long after the sweetness of low price is forgotten" – Benjamin Franklin could not have spoken any truer words which resonate over so many different industries. And while we all want to receive the best deal, what kind of deal is it in reality if you have to repeatedly pay for it due to poor quality…especially when it comes to home improvements? Although we may not be the cheapest in the Charlotte area, the name Belk Builders is synonymous with durable, high quality, professional work.
As the Queen City's premier choice for replacement windows, siding and roofing, Belk Builders is your contractor of choice. When you choose us for any of your exterior home projects, you can be confident that you're hiring a fully licensed and insured local, Charlotte family owned business which employs our own carefully selected, expertly trained team specialized in each specific field of renovation. This gives you the added peace of mind in knowing your job will receive an expert level of attention to detail by a company which takes pride in its work.
Our most recent window replacement project, located in the Cedarfield subdivision of Huntersville began with a consultation with the homeowners after they had an unsatisfactory experience with another company which replaced 3 or 4 windows on the rear of their home and ended with them hiring us to install Simonton Vinyl Windows with inset grids on the front of the home. Their chief complaints regarding the newly replaced rear windows were excessive air leaks around the frame of the window and their overall lackluster appearance.
Upon our inspection, we discovered all of the new windows suffered from poor installation. Not only did they incorrectly measure the window areas but had also made poor use of the sash kits (which come with all windows) plus spray foam to attempt to fill in and cover up their shoddy workmanship. When we shared these details with the homeowners they responded, "That's why they leak so bad!"
For window replacement projects, selecting the most qualified contractor with extensive experience in the details of installation is vital. Proper installation practices ensure the correct "seating" of the window casings and quality finishing techniques around the casings to prevent air leaks while maintaining and preserving your home's architectural style.
Having performed hundreds of initial evaluations of existing windows over the years, we've encountered countless examples of "contractor laziness" or just plain inexperience, where homes have either incorrectly measured dimensions of the windows, or windows which are too small for the spaces. In these cases the original installer "compensated" by using excessive amounts of foam or caulking to fill in the space, causing big problems as the caulking degrades over time such as energy loss, poorly insulated areas around the frames and even foggy windows where moisture has invaded.
We take the time to measure window openings properly, and finish around the window the correct way for a quality job the first time around. This means using vinyl coated aluminum which is cut and bent to custom to fit the space AND making the casings neat and flush—- including the bottom sill in the corners. In the world of window replacement, details matter…and we pay attention to every last one of them, to which these elated Huntersville homeowners can attest. The end result of this window replacement project is a beautiful home enhanced by high quality windows which were installed with the precision of a professional team.
Unlike some other window replacement contractors, our attention to detail in all of our window replacement, siding replacement and roofing projects is unsurpassed in quality and craftsmanship. If you are looking for the right company for your replacement window needs contact Belk Builders, Charlotte's premier complete home exterior company at (704) 400-4710 or info@belkcustombuilders.com to schedule a free evaluation today! Financing is available through Synchrony Financial.