Belk Builders proudly services Tega Cay and surrounding areas within York County SC. We offer a full menu of exterior home siding, roofing, window, and door services to suit your home's architecture and budget.
Did you know that Tega Cay means "beautiful peninsula" in Polynesian? YES! And, the name couldn't be more fitting for this pristine area which is filled with homes overlooking beautiful Lake Wylie. Belk Builders has over three decades of experience providing Tega Cay homeowners with upscale siding replacement and installation, replacement windows, window, and door upgrades, as well as roofing — and much more!
In case you haven't heard the buzz about HardiePlank fiber cement siding, it is one of the top choices for Carolina homeowners! James Hardie® siding has been installed on over 5.5 million houses in the U.S., making it the most popular brand of siding in America. This type of siding is made from only the highest-quality materials and can greatly increase your home's value substantially.  Along with durability and  enhanced aesthetics, here are a few more benefits:
Never needs to be painted and is very low on maintenance
Is resistant to moisture, mold, hot or cold temperatures, humidity, insect damage, and fire
Is environmentally friendly and contains no glass fibers, formaldehyde, or asbestos
Will never warp, rot, or rust
Is noncombustible and very durable
Will not expand or contract in extreme temperatures
Gives your home a classic appearance of real wood without the maintenance that wood siding requires
You can either remove your current siding and replace it with Hardie® Plank, or it can often be installed over the top of your current siding (as long as it is in good condition and provides a flat and even surface for installation). As a Charlotte Hardie® Plank siding installer, we highly recommend durable and attractive cement board siding. One of the great things about Hardie® Plank siding is the color selection. Not only do we offer this siding featuring ColorPlus® technology, which ensures a lifetime of vivid hues, but there are also so many options! Some homeowners choose primed and have us paint in a custom color of their choice as well, which is another great option!
It is one thing for a company to claim they are among the best of the best, and another to have the credentials to back it up. Belk Builders has been providing Tega Cay homeowners with superior quality and craftsmanship through siding, window, and roofing replacement for many years. Among our area of expertise is Hardie® Plank replacement siding. We can transform homes of all shapes and sizes! Don't just take our word for it, read what one of our recent Tega Cay customers had to say about us: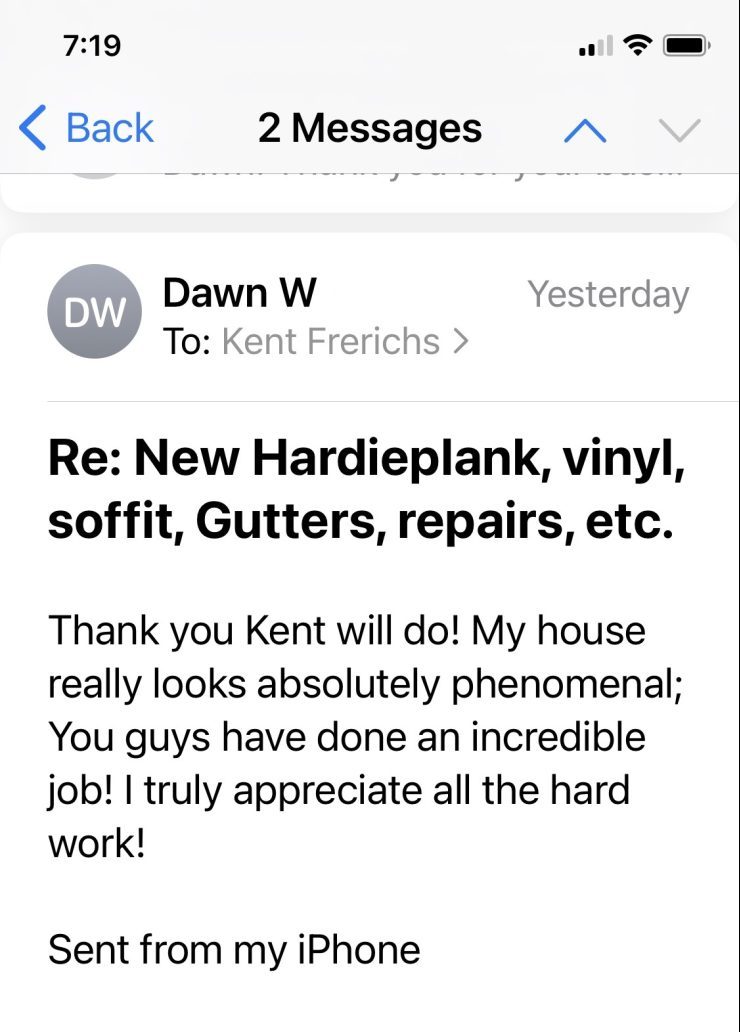 For this particular project, we updated this home's exterior with new HardiePlank siding in a warm gray tone. We also added new gutters in black to compliment the colors they chose for the new siding along with a new vinyl soffit.
Thanks to high-quality manufacturing and expert installation, vinyl siding is one of the most popular, durable, low-maintenance, and aesthetically-pleasing options for covering Tega Cay, SC homes.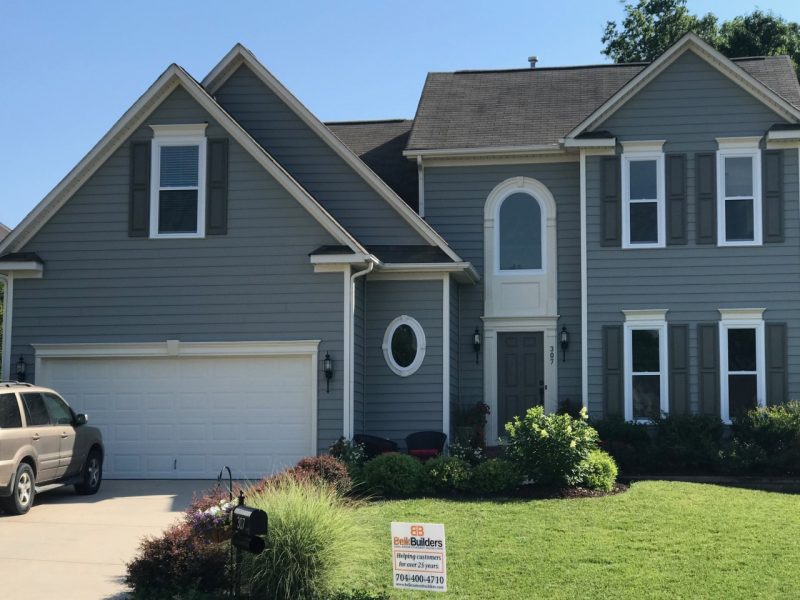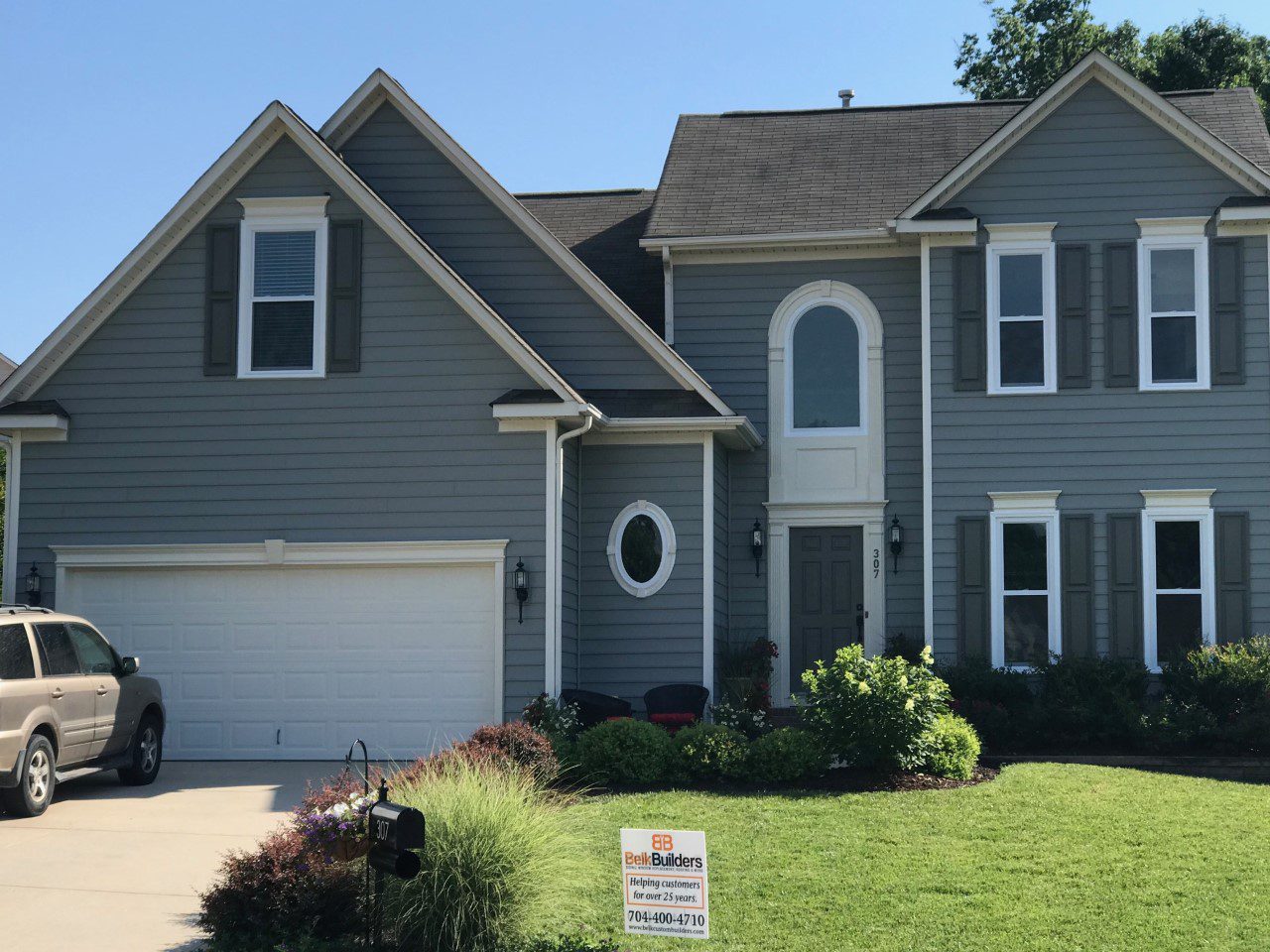 In addition to the previous advantages, vinyl siding also increases the value of your home and improves insulation which in turn reduces energy bills and it costs less than many other siding choices. You can customize the style and color of your vinyl siding but never have to be concerned with upkeep. You also need not worry about any wood-boring insects.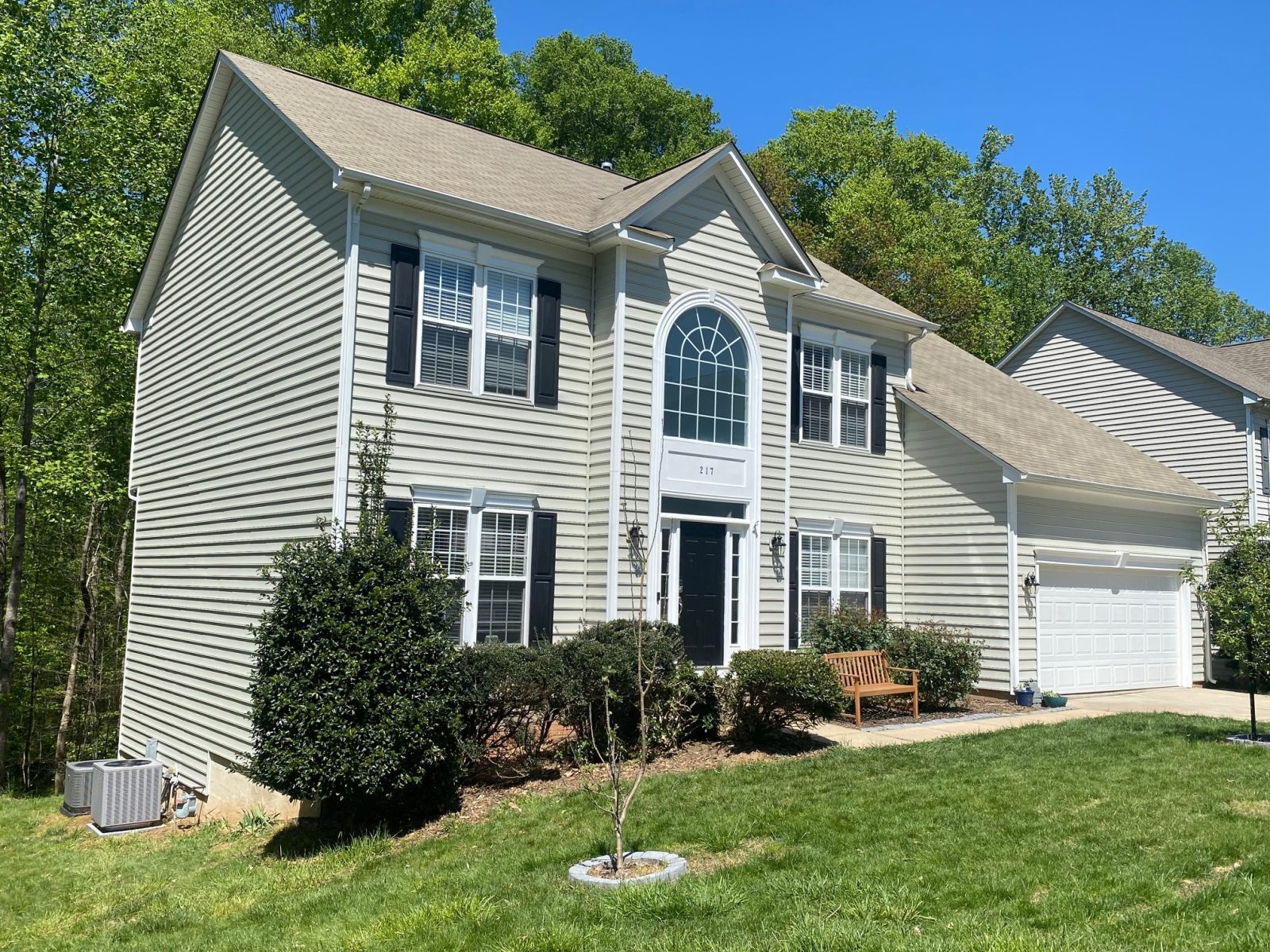 Belk Builders proudly uses Mastic vinyl siding, among other high-quality vinyl siding brands.  Mastic siding has more color and style choices than any other competitor in this class of vinyl siding. When you choose Mastic, you'll enjoy affordability, low maintenance, reliable strength, and a beautiful, long-lasting home exterior.
Is your Tega Cay home in need of new windows? We're expert window replacement installers. A broken or ill-working window is an eyesore and could drive your energy bills up. With energy-efficient replacement windows, you can solve both issues. We offer Simontonm Alside and Marvin windows that are available in many different hues and formats, including windows with black frames, which are architecturally stunning.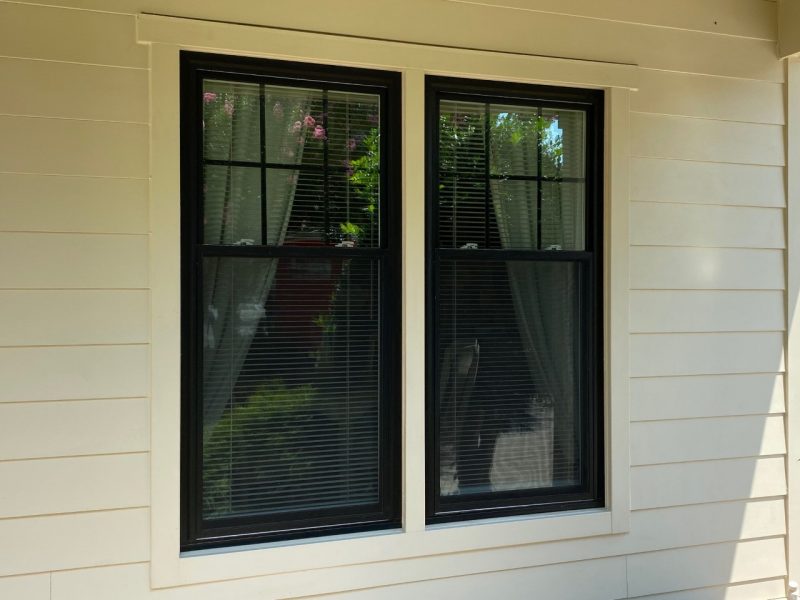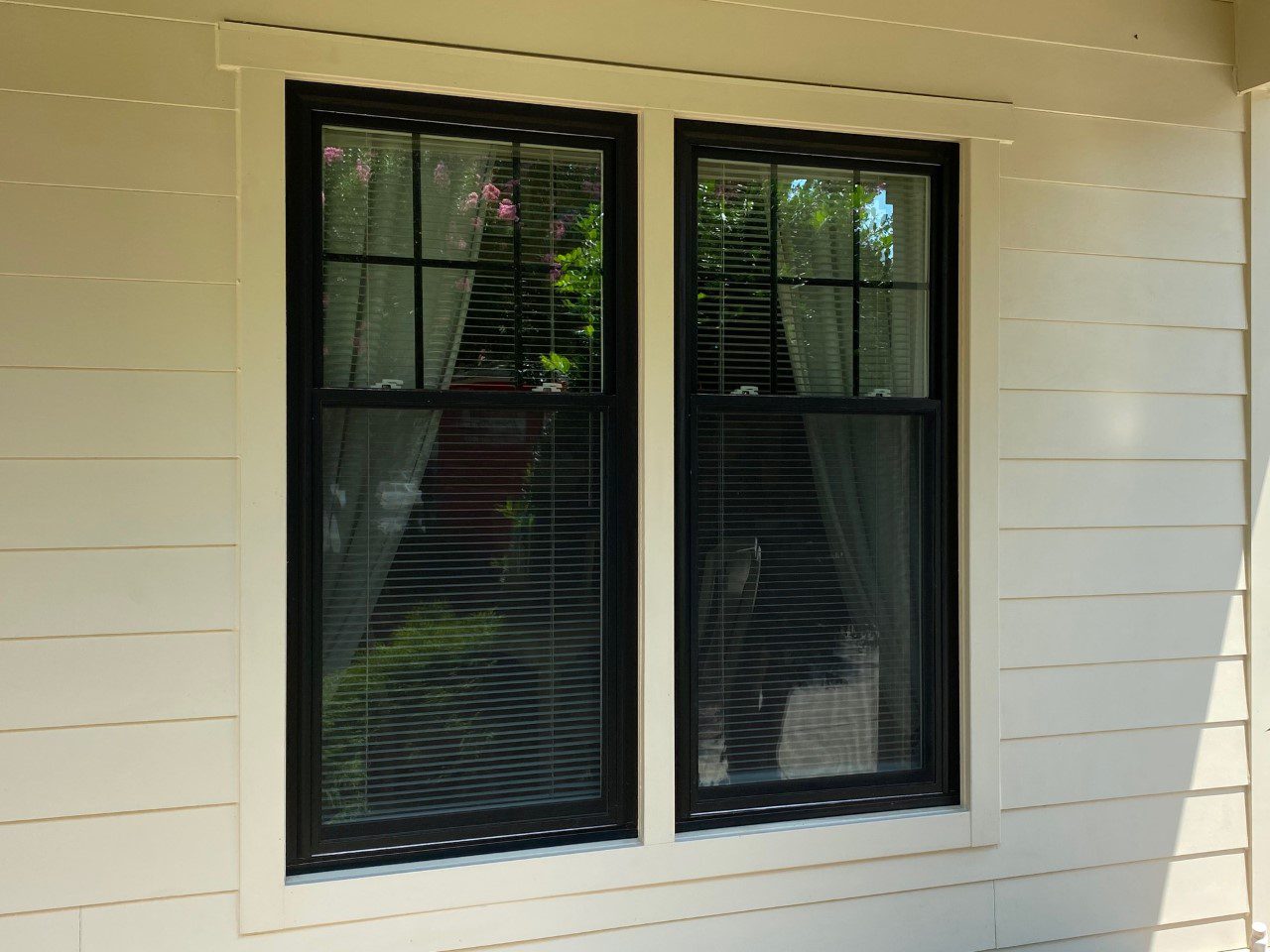 Windows shield the inside of your home from the summer heat, winter chills, noise, and energy loss and help add value and comfort to your home. Belk Builders specializes in upscale window replacement for your home and only installs top-quality insulated and ENERGY STAR-rated replacement windows.
Old, or dysfunctional windows can severely impact the temperature of your home. If your windows are single pane, ill-fitting, or have broken glass, cool air from your AC is slowly trickling out while hot, humid air from outside flows into your home. This means you could be constantly adjusting the thermostat and wondering why it's still so uncomfortable. In fact, heat gain and heat loss through windows are responsible for 25-30% of residential heating and cooling energy use, according to the Department of Energy.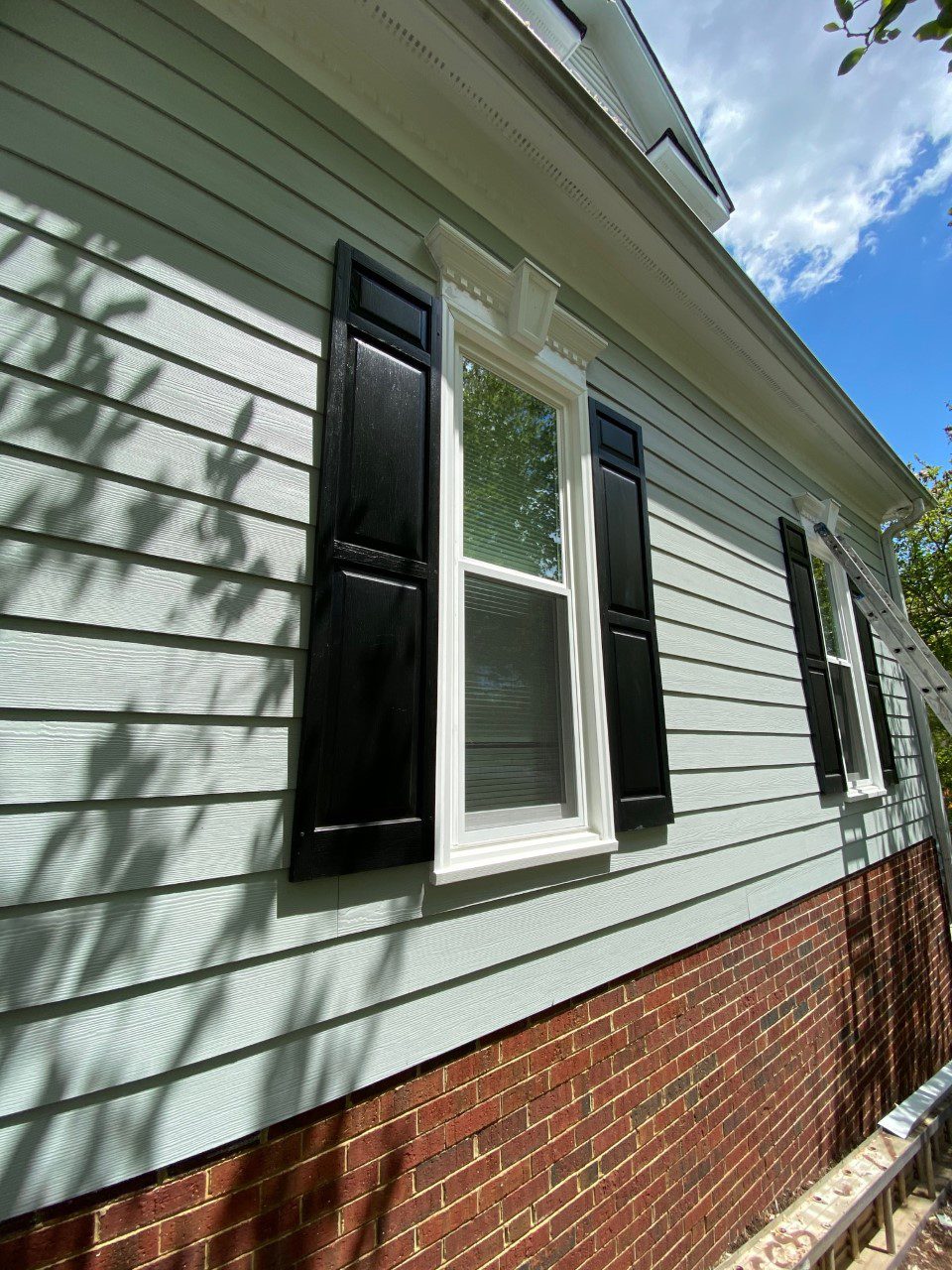 However, with replacement windows, as those Belk Builders offers, your windows will keep the cool air in and the hot air at bay. These windows can be designed to meet ENERGY STAR® standards, which could keep your home cooler (and warmer) and lower your energy bills by 12%!
When you think of beauty and curb appeal, your home's roof might not be the first exterior improvement that comes to mind. However, your roof may be one of the most important. When kept in good shape, your roof serves as a barrier to inclement weather and debris. Your roof keeps the interior and all the systems of your home protected. A leaking or failing roof is not only an eyesore, but it can also cause damage to almost every facet of your home. Even a small leak can lead to large-scale water problems across major home systems.
Here at Belk Builders, we have a team of highly experienced and trained roofing professionals that can work any type of roofing product, whether it be large and small shingles, copper, metal, wood roofing replacement, or new flashing, our team has you covered.
Tega Cay and York County SC homeowners—contact the team at Belk Builders today to start your exterior home improvement project (704) 400-4710.