Farmhouses have been a central part of American architecture for hundreds of years, and the modern farmhouse is still on trend and can be easily captured with the right exterior design elements. If you want to transform your Charlotte home into a modern farmhouse, then here are some great ideas and examples of farmhouse design elements showing you how to achieve the look at your home!
Farmhouse Design Elements Start with the Right Siding: HardiePlank® Siding
The modern farmhouse starts with the right siding. HardiePlank® siding offers a beautiful aesthetic while also being durable and strong. This fiber cement siding made of high-quality materials and has high-performance attributes. It's resistant to moisture, mold, temperature change, humidity, insect damage, and fire. It will never warp, rot, or rust. Plus, there's no maintenance required to have the look of real wood siding.
Belk Builders uses HardiePlank® siding for several different style homes because of its physical beauty and its ability last for years to come. As a professional HardiePlank® siding installer, we have the experience and expertise to deliver a stunning final look.
It can transform a home's exterior, even one that was previously stucco. It also works great on dormers, as seen on this Ft. Mill home, where HardiePlank® staggered woodgrain shingle siding was used to give the home a touch of elegance. Staggered siding can also be used on the fascia and soffit, as seen on this Lake Norman home.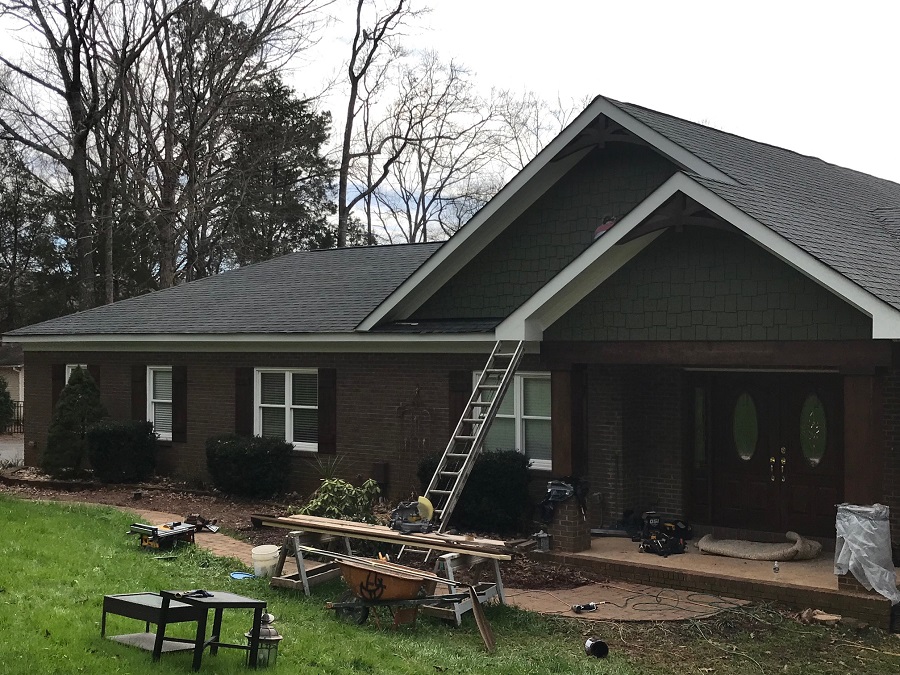 For the farmhouse look, we can use a 5/16-inch thick HardiePlank® lap siding with a 6-inch exposure, which gives an exterior the look of a traditional farmhouse with a modern spin.
Farmhouse Design Elements — Farmhouse Windows
Windows are an important part of your home's exterior, and grilles add character. A traditional Colonial grille has three columns and at least four rows. What makes it Colonial is that each square created by the horizontal and vertical lines is equal.
On the exterior, many farmhouses complement these grilled windows with shutters. Shutters may have a rustic look with a dark wood finish and variations on cross rails or cross bars. These types of shutters really pop on painted brick, another Farmhouse characteristic.
Farmhouse Touches
Another hallmark of the farmhouse is a metal roof. Put a contemporary spin on this with accent copper roofing. As copper experts, we can help you incorporate this one-of-a-kind feature.
Beyond your roof, there are many other elements you can add to your farmhouse exterior like finishing work. We can create custom columns to support an overhang that will look attractive and help protect your home.
Farmhouses are also known for their porches. A pine tongue and groove ceiling for your porch delivers that touch of history while also being durable.
Accentuate your doors and windows with trim as well to add some special touches. These will also help seal gaps, reducing the chance of moisture seeping into the walls.
Ready to create your modern farmhouse? Contact Belk Builders today to discuss your options at 704-400-4710 or send us an email at info@belkcustombuilders.com.